NAM - Not A Museum presents the second edition of SUPERBLAST, the call to free artistic production and experimentation of interdisciplinary languages at Manifattura Tabacchi. How do the past and future coexist in the present? What can we learn from the crisis, from the processes of collapse and recovery? What will be left of our infinitely stratified present for future generations? We propose SUPERBLAST as a lens to reflect on the many urgent themes of our times, and the second edition will revolve around issues such as the ephemeral city, the third landscape, and dreams. This open call invites artists to recreate an ideal stage as they seek traces of the world which remain yet to be explored, asking themselves where these traces can lead and what they can become. This second edition of SUPERBLAST will feature travelling theatres and fantastic maps as the artists rethink the materials of the past to prepare for the future.
the land of the last things
SUPERBLAST II Exhibition
22nd september – 16th october 2022
Exhibition openings | Wednesday to Sunday from 2pm to 8pm
Opening |  Thursday 22nd september, from 6:30pm
During the opening it will be possible to attend the three moments that make up The Ultimate Ensemble, the site-specific performance by Irene Adorni.
Produced by NAM – Not A Museum
With the support of Toscanaincontemporanea2022
The exhibition takes place within the program of the first edition of Florence Art Week

GUIDED TOUR
It is possible to take guided tours with the cultural mediators present in the exhibition | Reservation not required
Free entry, Via delle Cascine 35
Reservation is not required
the land of the last things is the title of the exhibition for the return of the second edition of SUPERBLAST, an international call for the assignment of six residences to six artists focused on the experimentation of artistic languages ​​within the spaces of Manifattura Tabacchi
A path through abandoned spaces, from the foundations to the roof of Manifattura Tabacchi, accompanies the visitor adrift. the land of the last things is a journey through the paradoxes of the present which, looking away from the privileged perspective represented by the city, reveals another subsoil, in an atmosphere that is dreamlike and disturbing at times.
The exhibition brings together the unpublished works by Irene Adorni, Roberto Fassone, Beatrice Favaretto, Lorenzo Lunghi, MERZBAU and Davide Sgambaro, created during the SUPERBLAST residency at NAM – Not A Museum. At the time of the launch of the call, inspired by a reflection of human action as a trace in history, on places and in time, the artists conceived projects that were the object of research of an individual path and shared. Expressive freedom emerges in the variety of languages ​​on display, including installations, sculptures, videos and performances, and in individual searches. The translation of the movement of the body into the principle of construction of the real; the feasibility of creating an ecological collectivism in the face of an individualistic culture; the collapse of the spectacle through the experimentation of apocalyptic practices and fantasies; generational behavior in the light of the contemporary ideology of work; the realization of publishing projects unrelated to consumer production purposes; the representation of sexuality freed from patriarchal dynamics. The diversification of the themes explored and the close connection with the places, for which the works were conceived, inspired the creation of a narrative text / letter that calls the visitor into another dimension. Taken together, the works constitute a living and lived material and represent acts of resistance with respect to the culturally accepted and introjected paradigms of the present time.
The collective questions the role of the ephemeral in a post-capitalist society, sometimes recovering prelogical mechanisms, such as ritual, dreams or dance, other times using its own tools, such as social media, performativity or overproduction. The artists, dissecting the practices and paradigms of contemporary culture and celebrating its enigmas, find themselves in the land of the last things to be inhabitants of a dystopian land, making the dimension of which we know, mainly the urban one, appear in its absurdity and conservative tenacity. Playing on a double level of interpretation, the exhibition tells of an apparently hidden world, which finds in the collective experience of the works on display the testimony of something that actually exists in the present and that is worth bringing to light.
Conceived as a reflection device on post-anthropocentric thought, SUPERBLAST is completed and concluded with an editorial project that collects, through an interdisciplinary study, the interventions of artists, intellectuals, writers and critics. The SUPERBLAST book is edited by Nero Editions with essays by the authors Angela Balzano, Ivan Carozzi, Giulia Crispiani, Federico Di Vita, Matteo Grilli, Laura Tripaldi, who accompanied and enriched the residency of the six artists. The publication will be in distribution starting from December 2022.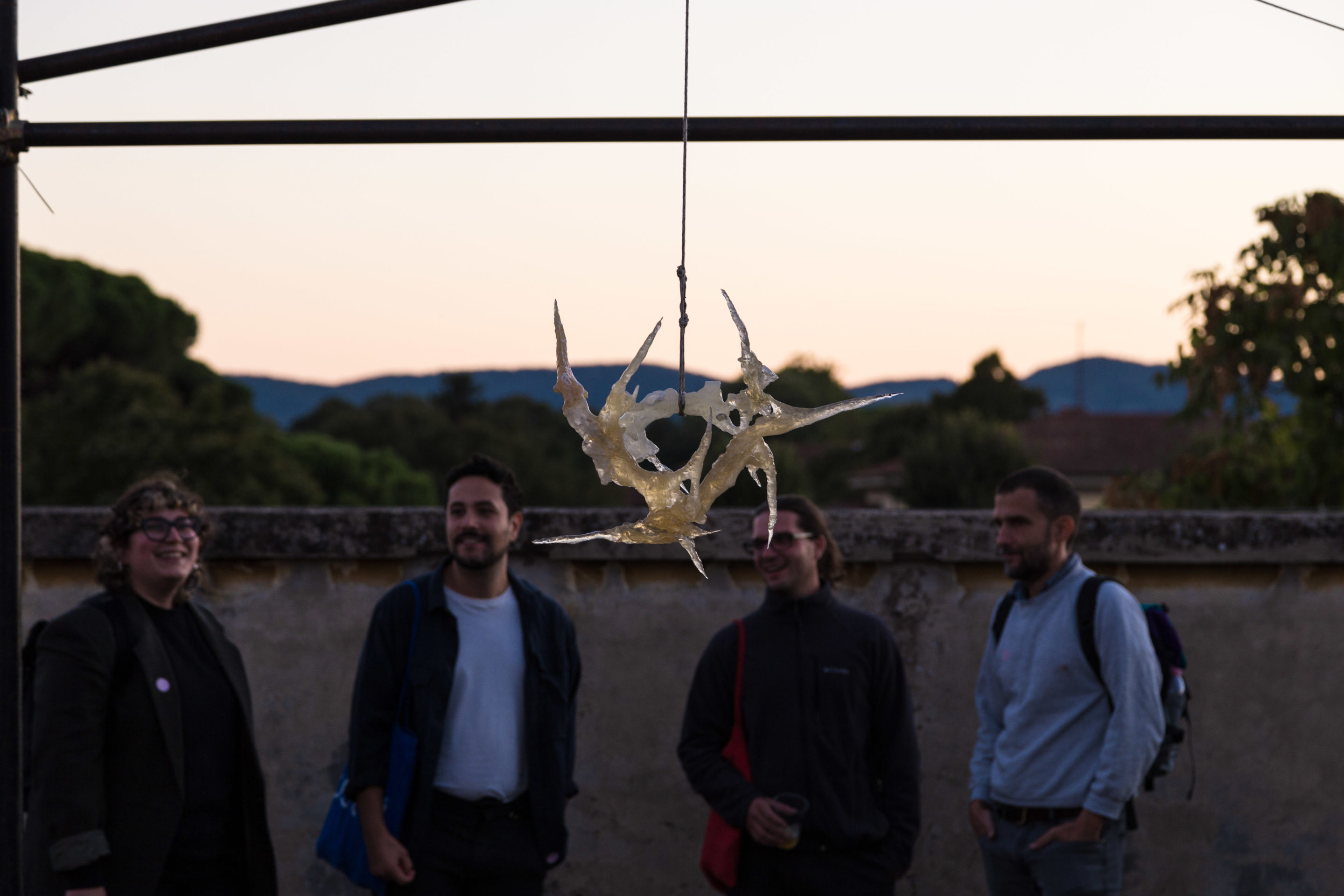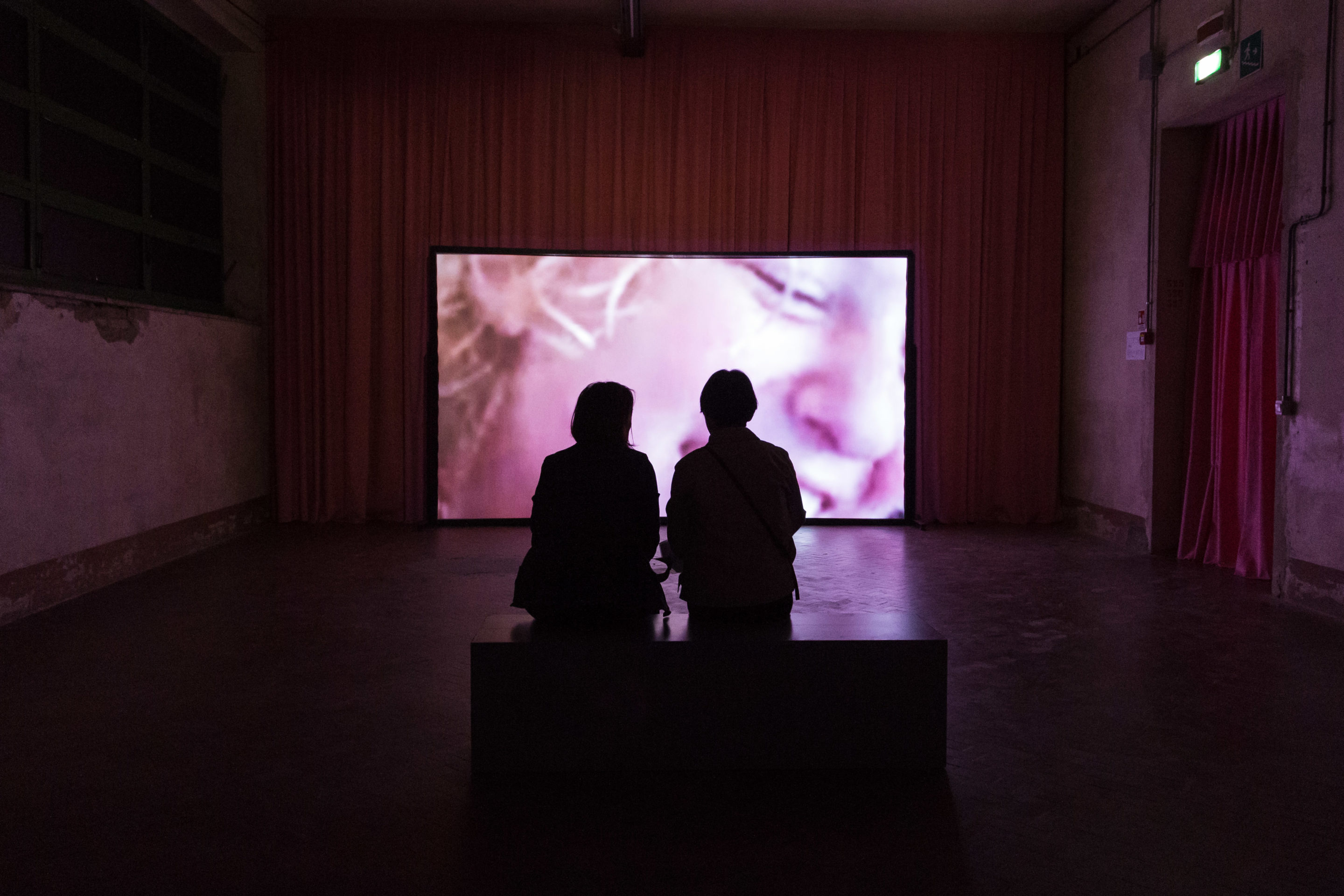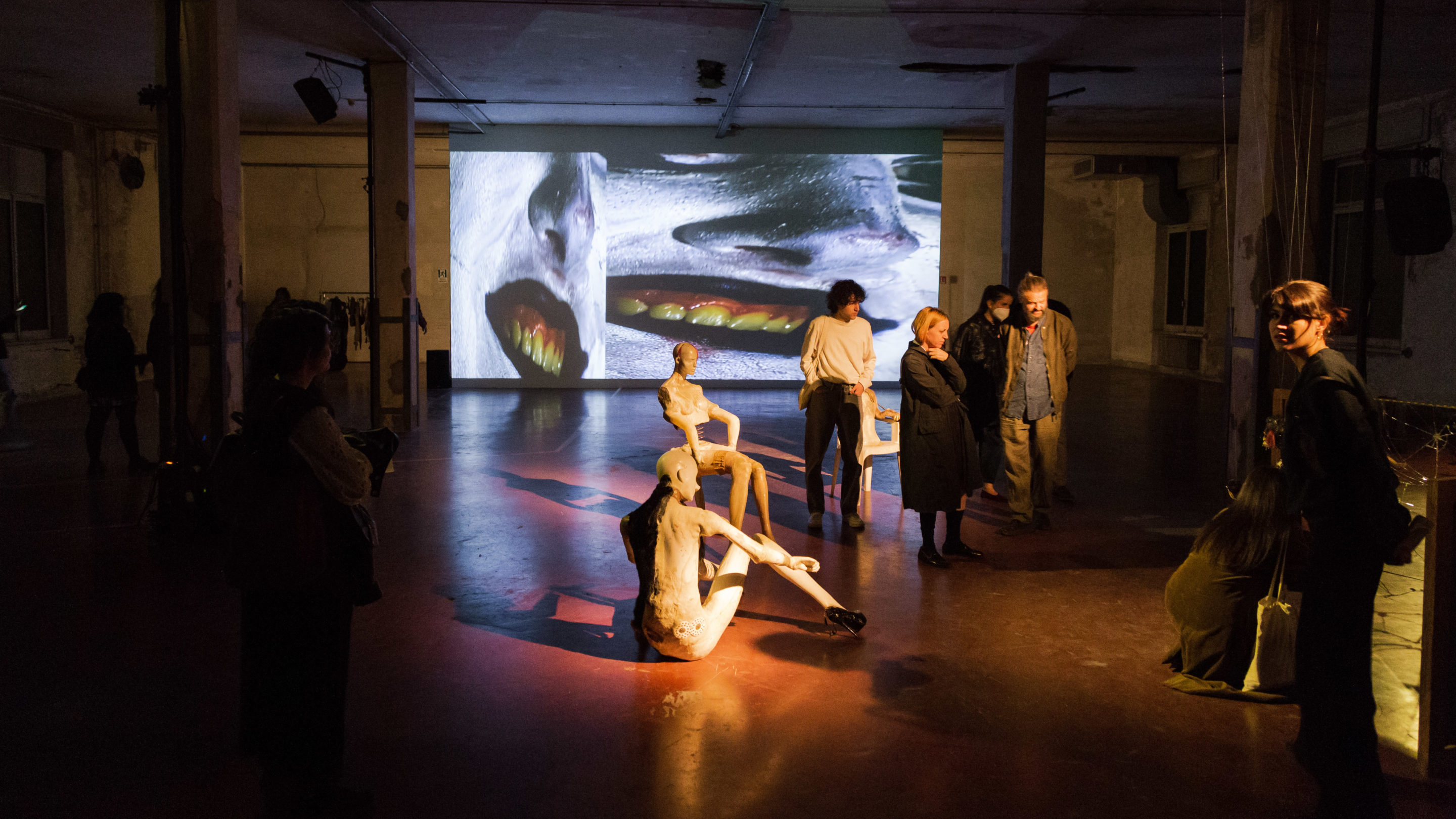 nel paese delle ultime cose
Photo Credits Giovanni Savi
Video Credits Alessandro Bartoletti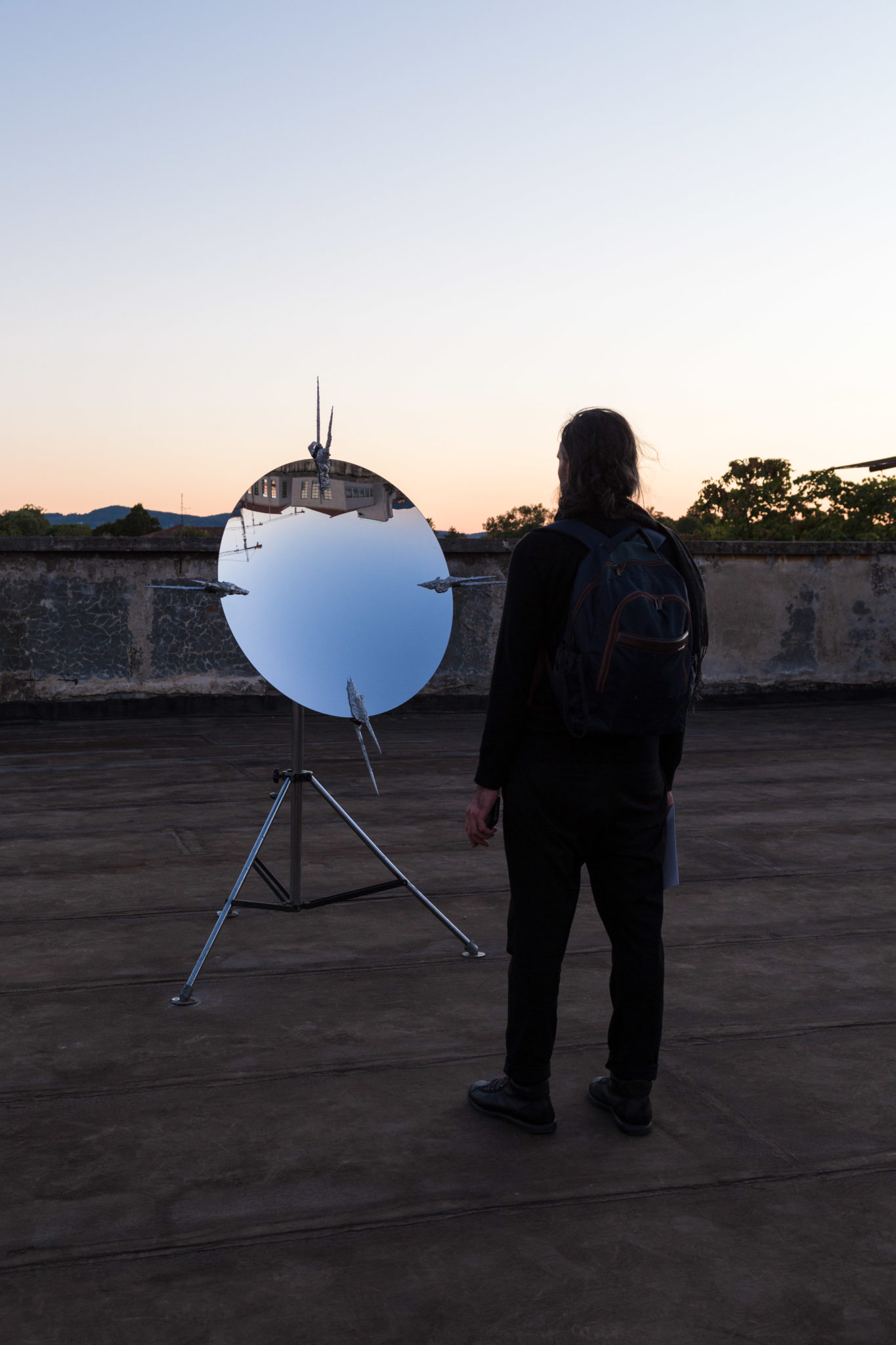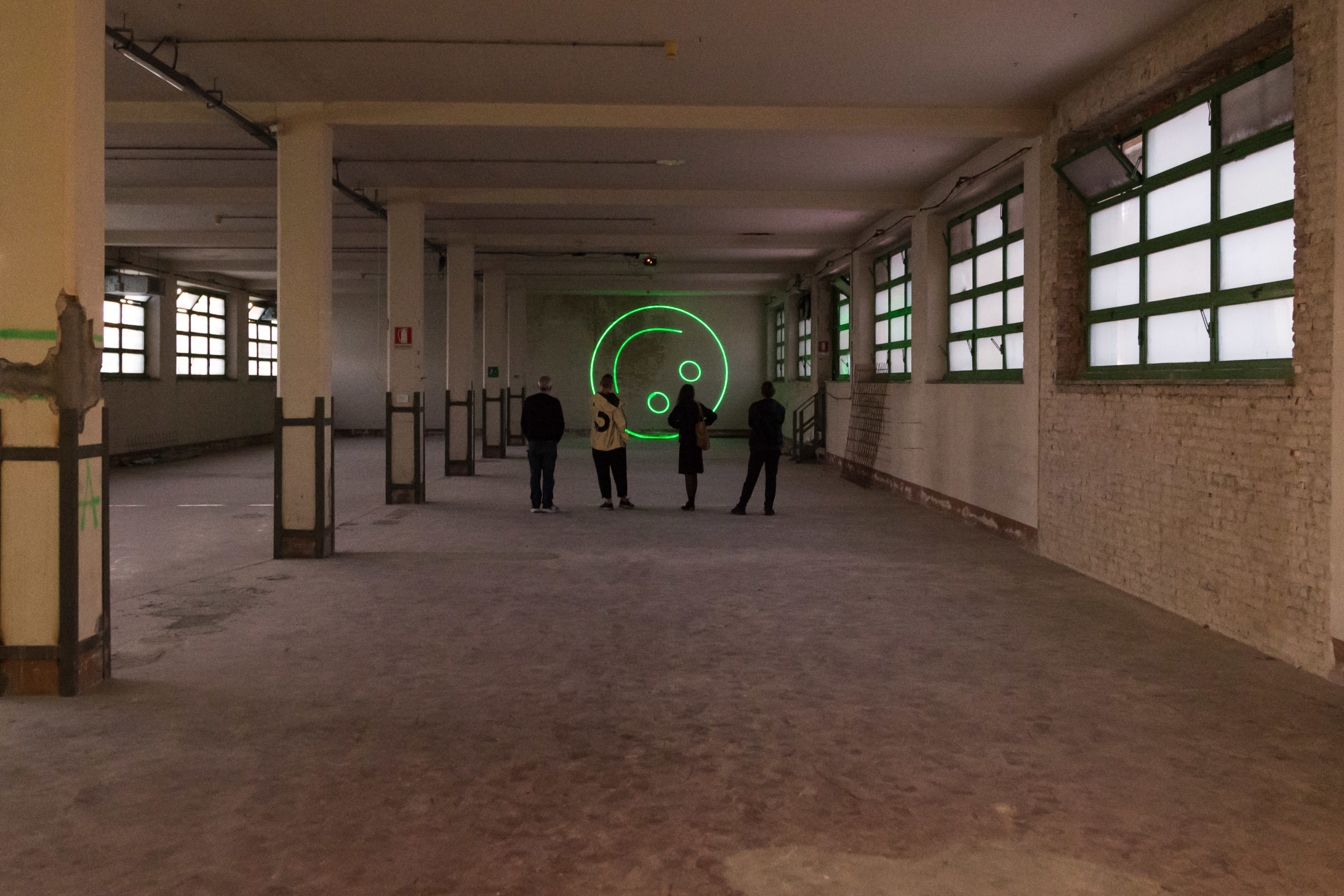 SUPERBLAST offers the spaces of Manifattura Tabacchi to artistic experimentation and reflection on human action as a trace, imprinted in history, places and time.
It seeks artists who can freely develop their research to create works that blend with the context that welcomes them, accompanying them in the interdisciplinary and formative dialogue with critics and curators.
Activates a series of relationships with the cultural fabric of Florence, promoting the dialogue between public, contemporary and historical spaces and the construction of a collective memory.
SUPERBLAST is a competition for the assignment of six residencies to six multidisciplinary artists who will develop artistic projects in full formal freedom and in dialogue with the spaces of Manifattura Tabacchi.
SUPERBLAST is aimed at individual artists or collectives under 40 years of age. It offers them a platform for action and expression, supports production and offers an ecosystem of relationships that focuses on the enhancement of artistic practice.
Each winning artist will receive:
€ 5.000 for the production of their work, a production studio and accommodation for the period of residence;
a three-month residency at Manifattura Tabacchi, from May to July 2022, which will start with a workshop together with leading figures in the world of contemporary art and culture and will continue with studio visits, meetings and open studios;
the possibility to exhibit their work in the final collective exhibition and a publication at the end of the residency;
the support of an author, in order to create the editorial content for the editorial project.
The residencies will be part of a cultural program taking place at Manifattura Tabacchi – and open to the community – that will allow artists to establish a relationship of exchange with the city.
Irene Adorni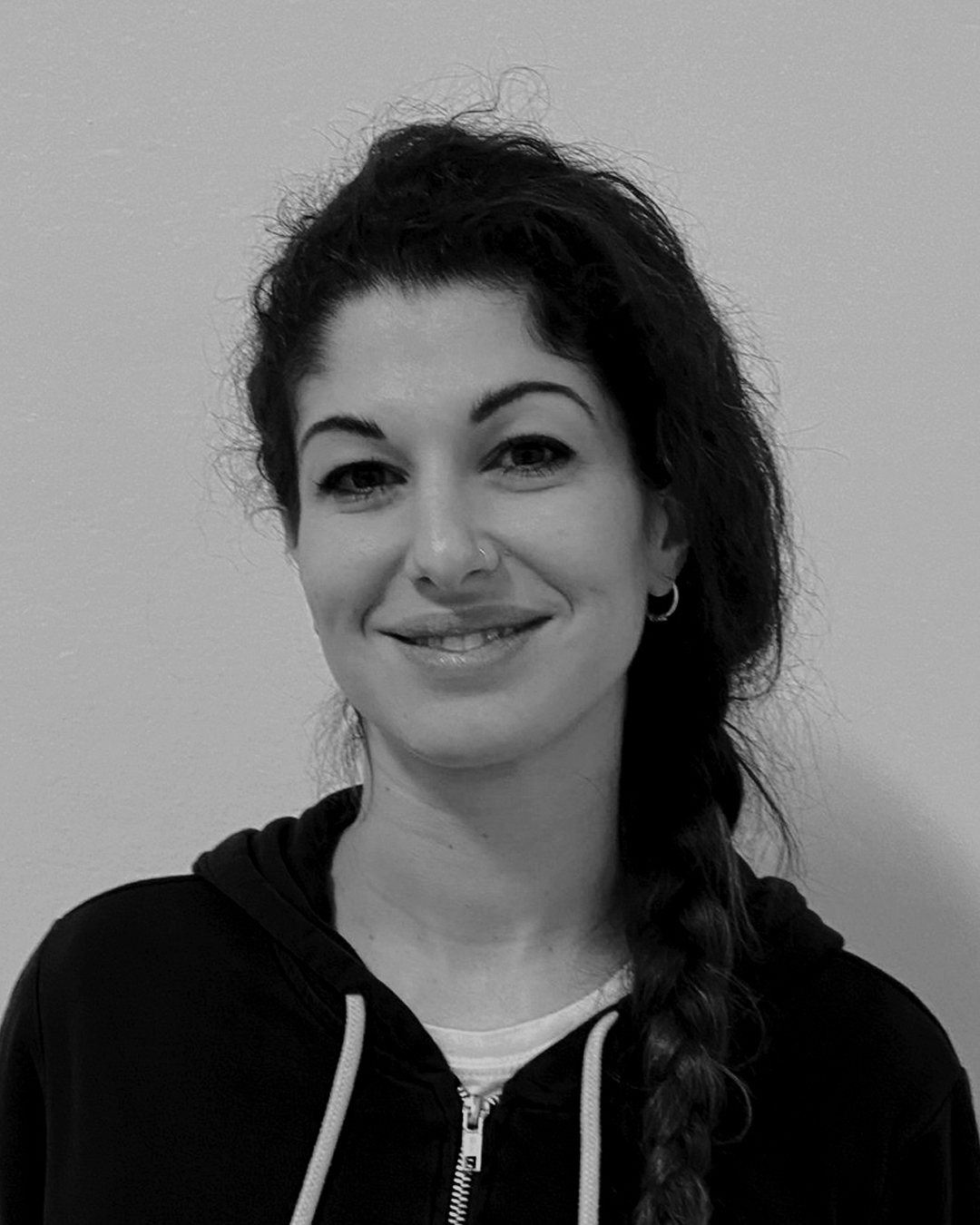 Irene Adorni (Parma, 1990) lives and works in Bologna, where she founded the artist-run space Parsec. After having undertaken humanities studies at the University of Bologna at the Literature Department, she attended the three years of painting at the Accademia delle Belle Arti in Bologna with Prof. Mundula, where she obtained his diploma in 2016. She later moved to London, where she concluded in 2019 an MFA in Fine Arts from Goldsmiths University of London.
She recently exhibited on the occasion of the ABECEDARIO D'ARTISTA exhibition, curated by Gaer in collaboration with Toro at the Palazzo del Governatore, Parma (2021); HOLE, Temporary art peep show, curated by Adiacenze and Tatanka in collaboration with Andrea Tinterri, Adiacenze, Bologna (2021); HOLD ON, group show curated by Trans-curatorial, The Koppel Project, London (2020) and has been selected to present her work with Castro (Rome) on the occasion of ARTVERONA 2019, Offsite Project.
It has also recently been included in the publication of Exibart 222 EMERGING ARTISTS IN WHICH TO INVEST, edited by Cesare Biasini Selvaggi and Silvia Conta (2021). In her environmental installations, Adorni investigates the relationship between bodies in space, exploring the potential of their representation, starting from the paradoxical condition that sees incorporation play an ever-increasing role in the corporeal dimension of our lives.
Roberto Fassone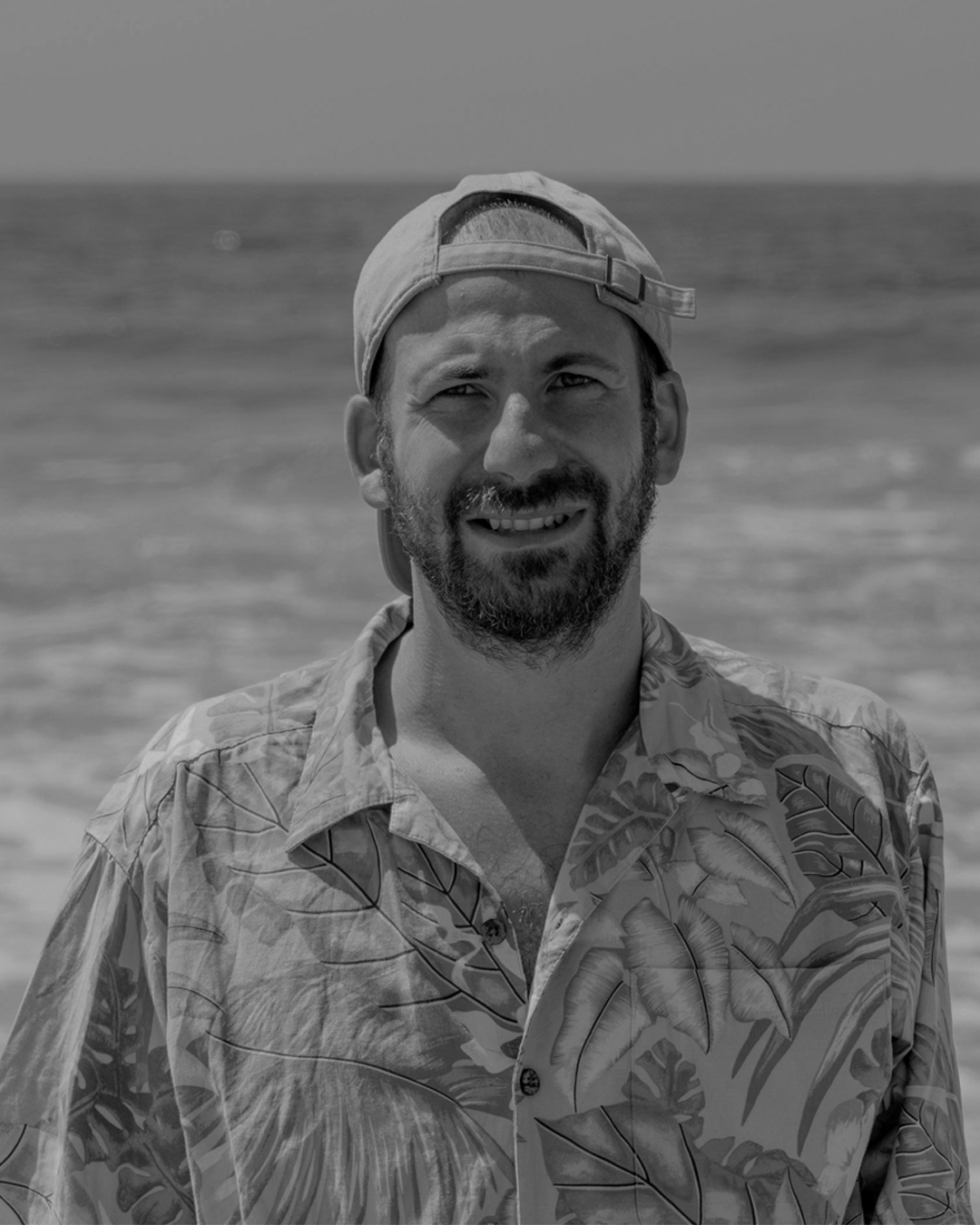 Roberto Fassone (Savigliano, 1986) lives and works in Florence. To date, his research concerns the limits of imagination, lucid dreams, titles of things, trip reports, little adventures, Prince, the metaphors we live in, the definition of the game, pre-game speeches and lists. His works are the result of a spontaneous, ritual and occult practice.
In recent years Fassone has exhibited and performed his work at Italian and international institutions, including: Vision du Rèel, Nyon (upcoming); Lo Schermo dell'Arte, Florence (2021); Italian Cultural Institute, Paris (2021); Fanta-MLN, Milan (2019); MAMbo, Bologna (2018); OGR, Turin (2018); Castello di Rivoli, Turin (2017); MOCAK, Krakow (2017); Mart, Rovereto (2016); Quadriennale of Rome (2016); AOYS (online), Zkm, Karlsruhe (2015); Japan Media Arts Festival, Tokyo (2014). In 2019 he co-curated with the artist and performer Kasia Fudakowski Lo schermo dell'arte, a performative film festival within the best known Lo Schermo dell'Arte Film Festival.
In 2019 he won the IMAGONIRMIA tender, founding the Museum of Lost Time in Modena Ovest. Since 2012 he has developed an intense activity of workshops dedicated to the implementation of lateral and creative thinking in collaboration with museums (Zkm, Karlsruhe; MA * GA, Gallarate), artistic spaces (Hangar Bicocca, Milan; OGR, Turin) and schools ( MADE Program Accademia di Belle Arti Siracusa; ISD, Dusseldorf) His practice is open to collaboration: over the years he has created projects with Federico Tosi, Carolina Cappelli, Riccardo Banfi, Mattia Pajè, Kasia Fudakowski, Jacopo Jenna, Friends Make Books.
Beatrice Favaretto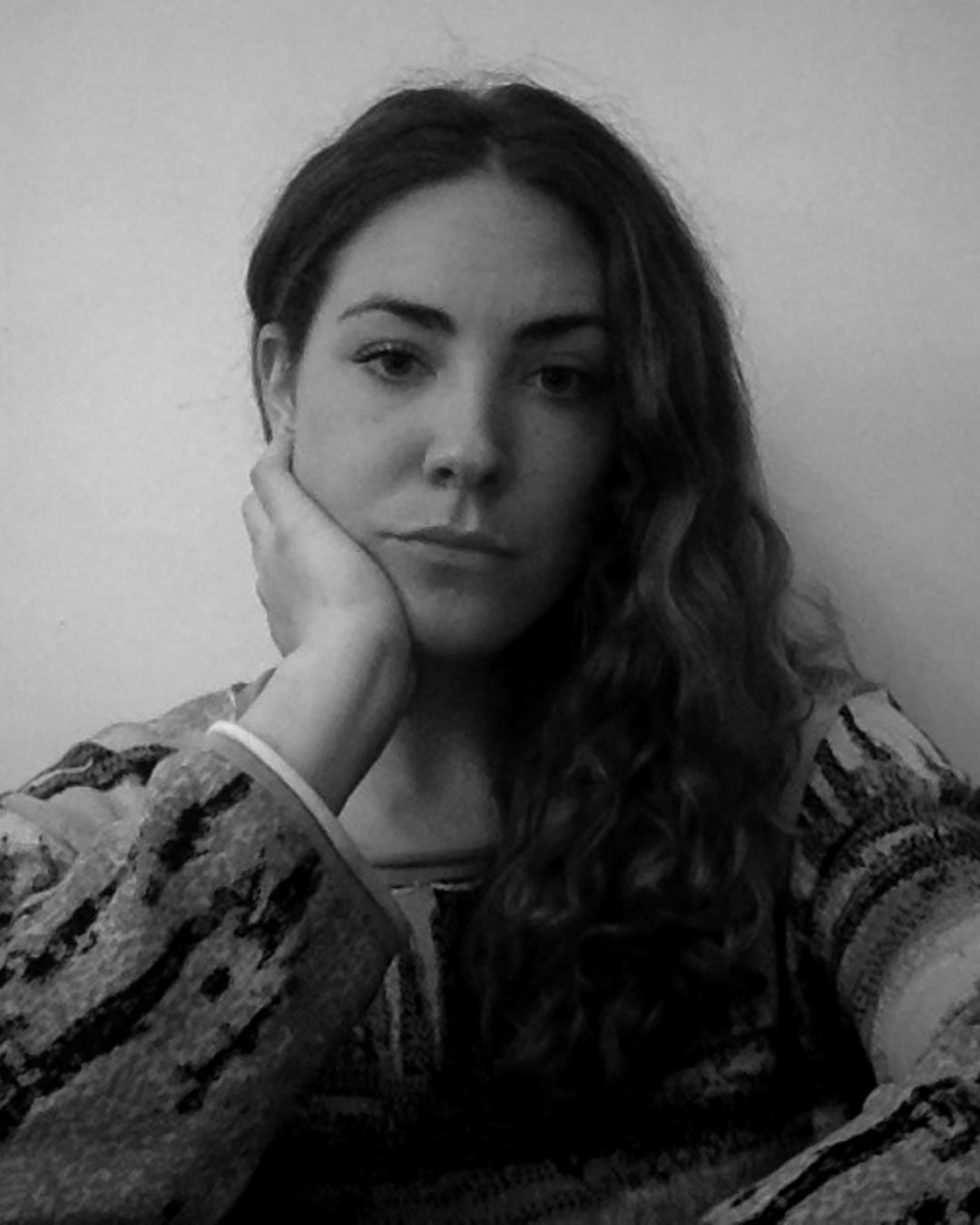 Beatrice Favaretto (Venice, 1992) in 2015 graduated from the Accademia delle Belle Arti in Venice, in 2018 she obtained a specialist degree in New Technologies for Art – Cinema and Video Art at the Brera Accademia delle Belle Arti. In 2021 he was among the finalists of the first edition of the Biennale College Arte curated by Cecilia Alemani and Marta Papini.
In 2020 she won the Artists' Film Italia Recovery Fund Award with The Pornographer promoted by the screen of art and was a finalist at the DucatoPrize2020. His recent exhibitions include: 2021, CLAMOR, with Giorgia Garzilli, Jacopo Belloni, Pietro Librizzi, Diego Gualandris, Sala Santa Rita, Rome; 2021, Art City Bologna, curated by Caterina Molteni and Lorenzo Balbi, Cassero LGTBI +, Bologna; 2021, PRIME TIME, curated by Adrienne Drake, Ilaria Gianni and Maria Alicata (MagicLantern Film Festival), smART Foundation, Rome; 2019, Indistinti Confini, Cinema Giorgione, Venice; 2018, Francesco Fabbri Prize for Contemporary Art, Villa Brandolini Pieve di Soligo; 2018, Diaspora, Church of San Carlo (RE), Reggio Emilia. Residency projects include: 2021-2022, Fondazione Bevilacqua La Masa, Venice; 2019, Castro Projects, Rome.
Lorenzo Lunghi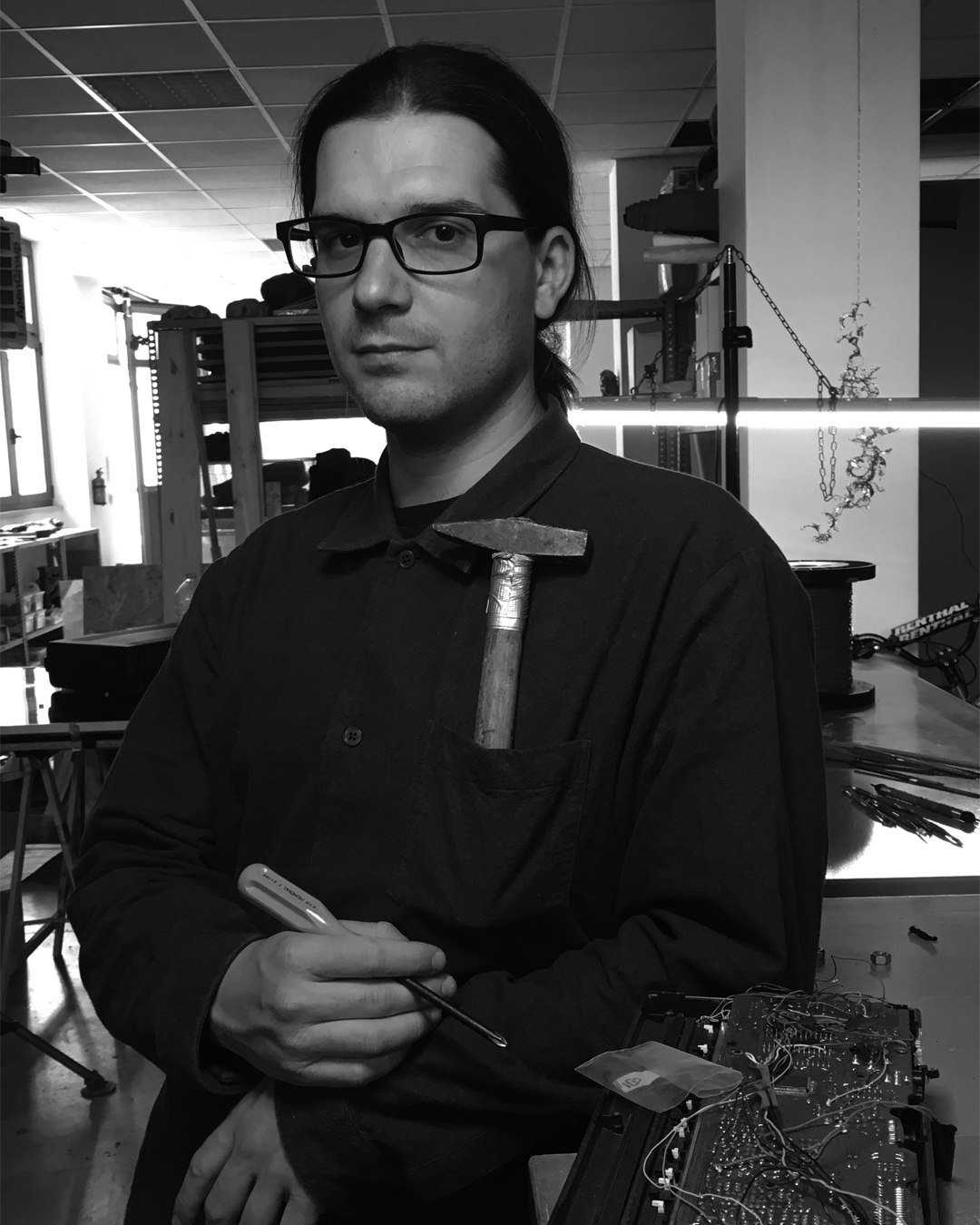 Lorenzo Lunghi (Crema, 1993), lives and works between Crema Milan and Geneva. After graduating in 2018 in Painting and Visual Arts at the Giacomo Carrara Accademia delle Belle Arti, Bergamo, in 2021 he completed the Master in Visual Arts, Work, Master Contemporary Artistic Practices, at HEAD, Geneva. From 2016 to 2019 he was part of the DITTO collective of which we mention the exhibitions: Eclissi, MACAO, Milan, 2018; Spectri (MAXXI prize), curated by Giulia Gelmini, Villa Farinacci, Rome, 2018; Blind Date, Current, Milan, 2018. Since 2019 he has curated a series of traveling exhibitions in natural and extra-urban contexts, including: Erbacce, Monza, 2020; Miraggio, Fontanile Fontanone, Farinate, 2019; FORTEZZA, Giacomq, Bergamo, 2019. His works have been exhibited in various contexts, including: Mal di Pancia, curated by AN / CONTEMPORANEA and Lorenzo Lunghi AN / CONTEMPORANEA, Ancona, Italy; Warum ist das Schöne so schwach, edited by Giulietta, Giulietta, Zürcherstrasse 144, Basel, Switzerland, Macina edited by Tretre, Via Marco D'Agrate 33, Milan, Italy; Monza Biennale, curated by Daniele Astrologo Abadal, Reggia di Monza, Monza, Italy; Leftovers edited by Luca Poncetta and Localedue, Via Azzo Gardino, Bologna, Italy; Tomorrow Here Today, curated by Ilaria Gianni, Palazzo delle Esposizioni, Rome; Exception of (not) being, curated by Essenza Club and Rhizome Parking Garage, Online show, 2020; DEDICATIONS, curated by Sonnenstube and Lumpen Station, Sonnenstube, Lugano, Switzerland, 2020; Weaving Home, Limbo off-space, Geneva, Switzerland, 2020; BAITBALL (01) "I'll slip an extra shrimp on the barbie for you", curated by Like A Little Disaster and Harlesden High Street, Palazzo San Giuseppe, Polignano a Mare, 2020; INSOMNNE, Sonnenstube, Lugano, Switzerland, 2019; Cristallino, Location_e, Bergamo, 2019; Chapter 2 (Autumn), Residenza La Fornace, 2018; Singular, curated by Accademia Carrara and Kilometrorosso, Kilometro Rosso Scientific and Technological Park, Bergamo; Warranty notice, by Giacinto di Pietrantonio and Simone Ciglia, Fuoriuso, Pescara, 2016.
Merzbau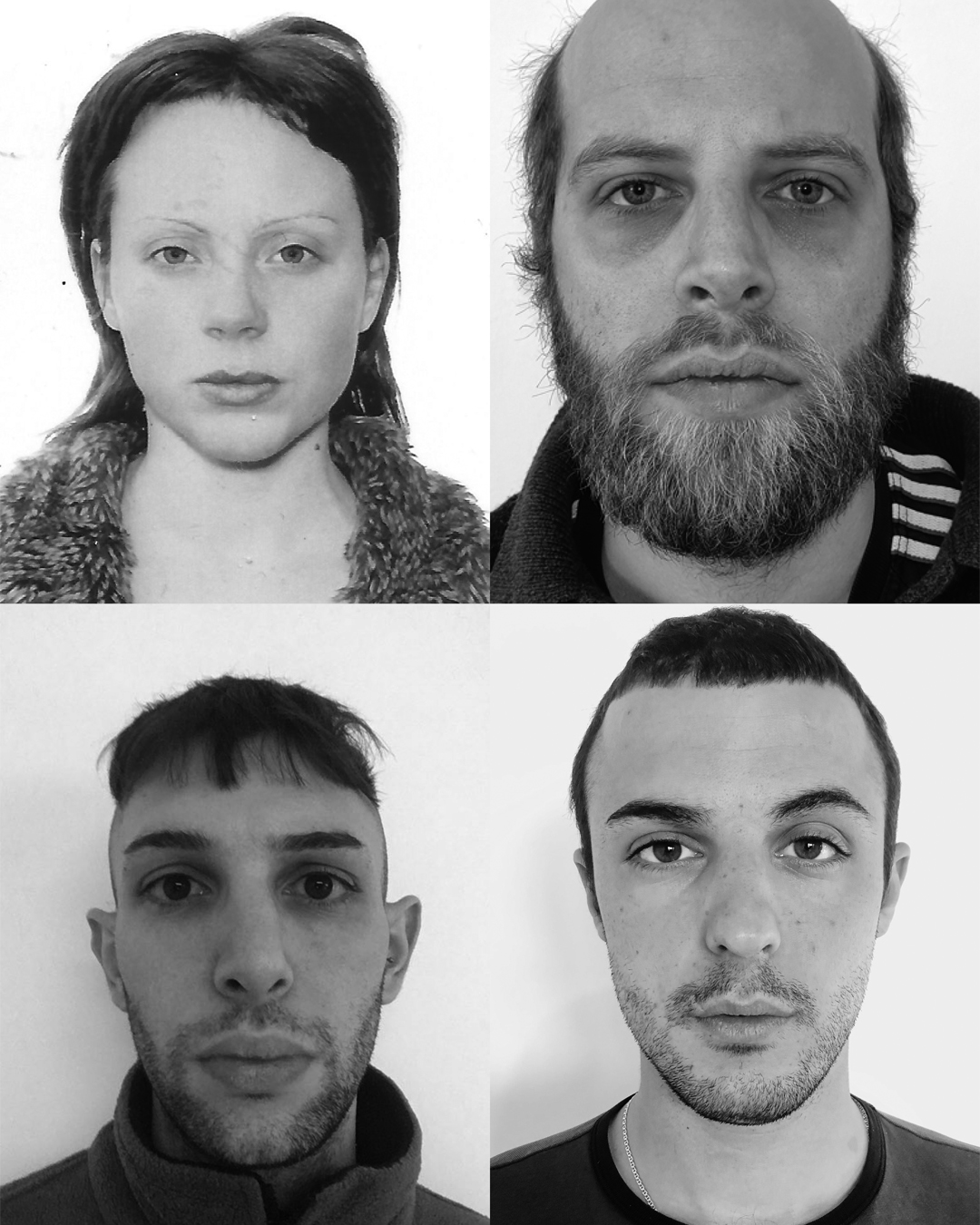 MERZBAU is an artistic collective made up of Andrea Parenti (1992, Milan), Nakouzi De Monte (1994, Trieste), Filippo Tocchi (1991, Bologna) and Pietro Cortona (1990, Lecco) which operates between Turin and Amsterdam and questions the processuality of creation as an agglomeration of tensions and plural forces.
The interest in the peripheral, anti-authorship and the deviant outlines the stylistic and operational code of the collective. His collaborative and nomadic practice is based on an aesthetic and affective research of the peripheral and the marginal and explores various types of expressive approaches, such as sculptural and installation interventions, architectural-urban planning operations, curatorial projects, sartorial assemblages, object, textual, sound works and performative. The narrative tension is always present and develops in a spatial, plastic and linguistic way through spontaneous architectures, transitory scenographies, assemblages, sculptures and costumes, stories, sound performances, networks of physical and psychic associations and paths of fictitious subjectivity that break through and pervade the space.
The expanded sculptures created incorporate non-traditional materials, discarded and rediscovered, and are presented in such a way as to evoke an arena where matter, word and action are disseminated in space and time, imposing an open, non-linear and psychotic use. The term sculpture emerges in this sense as a node, a crossroads, a place of transition composed of several phenomena, including objects and images, texts and actors.
Davide Sgambaro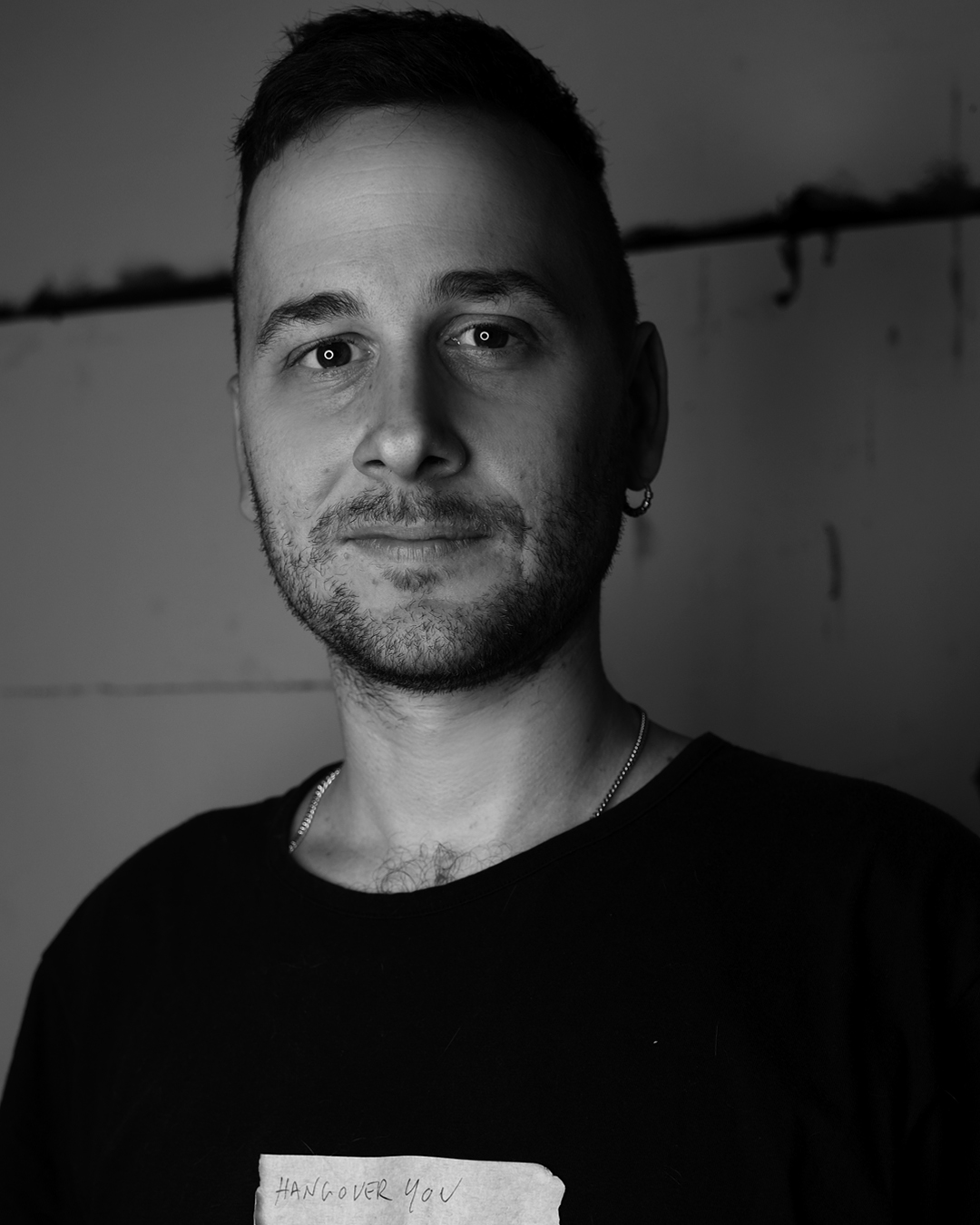 Davide Sgambaro (Cittadella, 1989) studied at the IUAV University of Venice, he lives and works in Turin. Using different media, the artist explores existential themes relating to the condition of the individual in contemporary precariousness. His practice restores irreverent dynamics of resistance in response to the paradoxes of identity and stereotypes inside the social and cultural order. Solo exhibitions include: Nope!, Galerie Alberta Pane, Paris (2022); Too much and not the mood, LOCALEDUE, Bologna (2022); Feeling Fractional, 9 FrenchPlace, London (2022); Kiss, kick, kiss, Istituto Italiano di Cultura, Cologne (2021); Paesaggi eterni, SpazioSiena, a cura di Lisa Andreani e Stefania Margiacchi, Siena (2019); White and black stripes and a red nose, Almanac Inn, Turin (2019). He has participated in numerous residencies, collaborations and group exhibitions in public and private institutions such as Fondazione Bevilacqua La Masa (2015); Fondazione Spinola Banna per l'Arte (2015;2018); Q-Rated Quadriennale di Roma and Castello di Rivoli (2018); GAM Torino (2018); Fondazione Monte dei Paschi di Siena (2019); Cantica 21, Ministry of Cultural Heritage, Ministry of Foreign Affairs (2020-2021); SUPERBLAST II NAM Manifattura Tabacchi (2022).
His work is in the permanent collections of the MAMbo Museum in Bologna; Fondazione CRT Arte di Torino; GAM Torino; Fondazione Monte dei Paschi di Siena.
The selection will be made by an international panel made up of contemporary art curators.
ANDREA LISSONI
Artistic Director at Haus der Kunst in Munich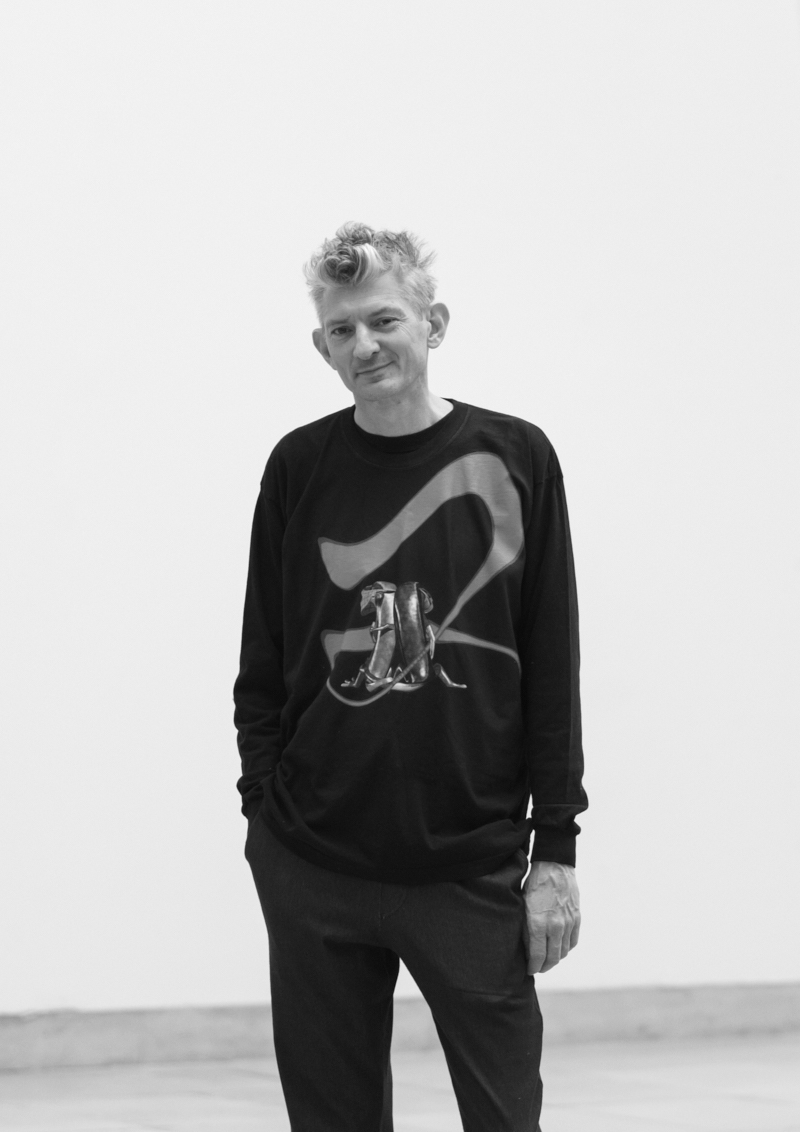 Andrea Lissoni, PhD, is Artistic Director, Haus der Kunst, Munchen since April 2020. Formerly Senior Curator, International Art (Film) at Tate Modern, London and previously curator at HangarBicocca Milan (2009-13), the co-founder of the independent artistic network Xing and co-director of the international festival Netmage in Bologna, in 2012 he co-founded Vdrome, an online screening programme for artists and filmmakers, which he co-curates since then.
At Tate Modern he launched a yearly Cinema Programme conceived as an exhibition unfolding throughout the year, he co-curated the display and the live programme at the opening of the new building in 2016, the 2017 and 2018 Live Exhibition, the 2016 Turbine Hall Commission by Philippe Parreno and the expanded exhibition Joan Jonas (2018). He was the co-curator of the Biennale de l'Image en Mouvement The Sound of Screens imploding, Centre d'Art Contemporain Genève/OGR Torino, 2018. In 2019 he contributed to the international launch of the CCA Tashkent, the first public contemporary art center in Uzbekistan, where he curated the solo show by Saodat Ismailova Qo'rg'on Chiroq. More recently he curated the exhibition Bruce Nauman, Tate Modern, London, (2020-2021, travelling to Stedelijk Museum, Amsterdam and PirelliHangarBicocca, Milan).
His research concerns liveness, cinematic aspects in time-based artworks, the perception of time and forms of transmitting, sharing and engaging in contemporary arts. He explores these through trans-disciplinary approaches to exhibition-making, focusing on artistic contexts across non-dominant cultures and subcultures, among which, music and sound in particular.
Elena Magini
Curator at Contemporary Art Centre Luigi Pecci in Prato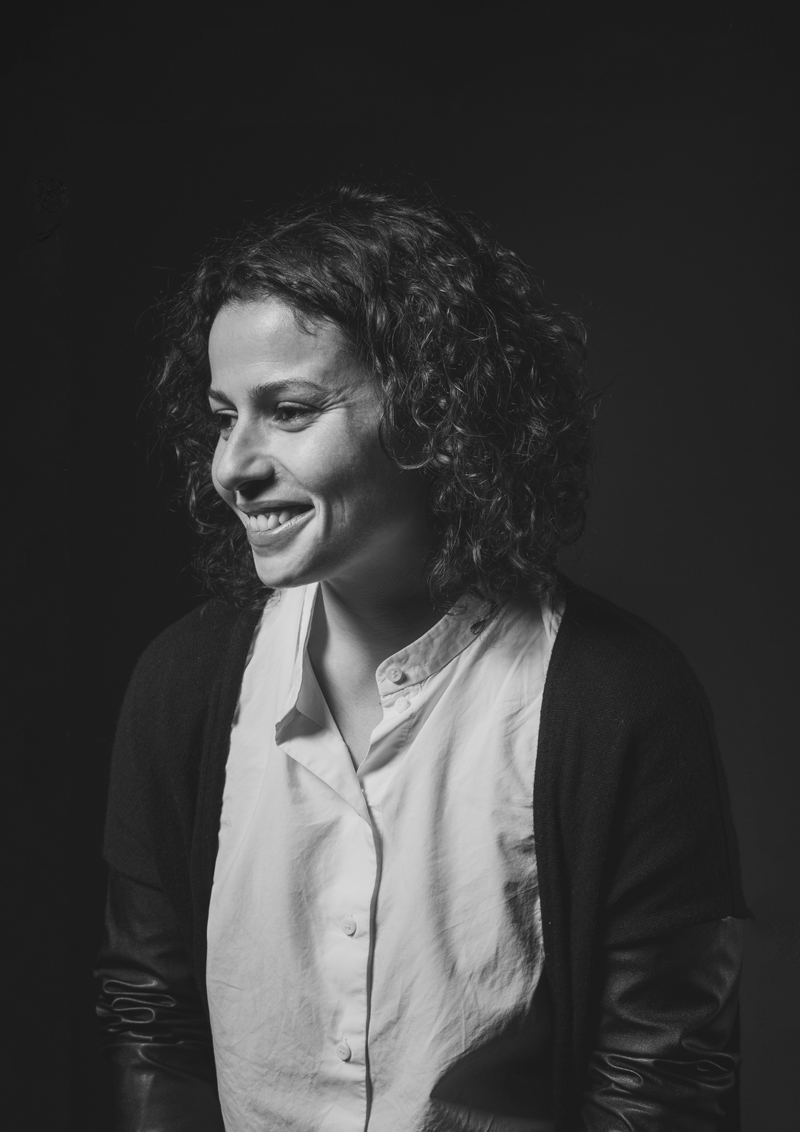 Elena Magini is the curator and coordinator of exhibitions and events for Centro per l'arte contemporanea Luigi Pecci, Prato since 2015. Previously she worked for a variety of public and private realities dedicated to the contemporary, including EX3 Centro per l'Arte Contemporanea, CCC Strozzina, Palazzo Strozzi, Galleria dell'Accademia, MAN Museo d'Arte Provincia di Nuoro, and Fondazione Biagiotti Progetto Arte. She has written contributions and critical texts for exhibition catalogues and specialist journals, and regularly collaborates with some sector journals, including "Flash Art".
In 2020 she will teach Planning and Museum Management for the Master in Arts Management at IED Firenze.
CATERINA MOLTENI
Assistant Curator at MAMbo in Bologna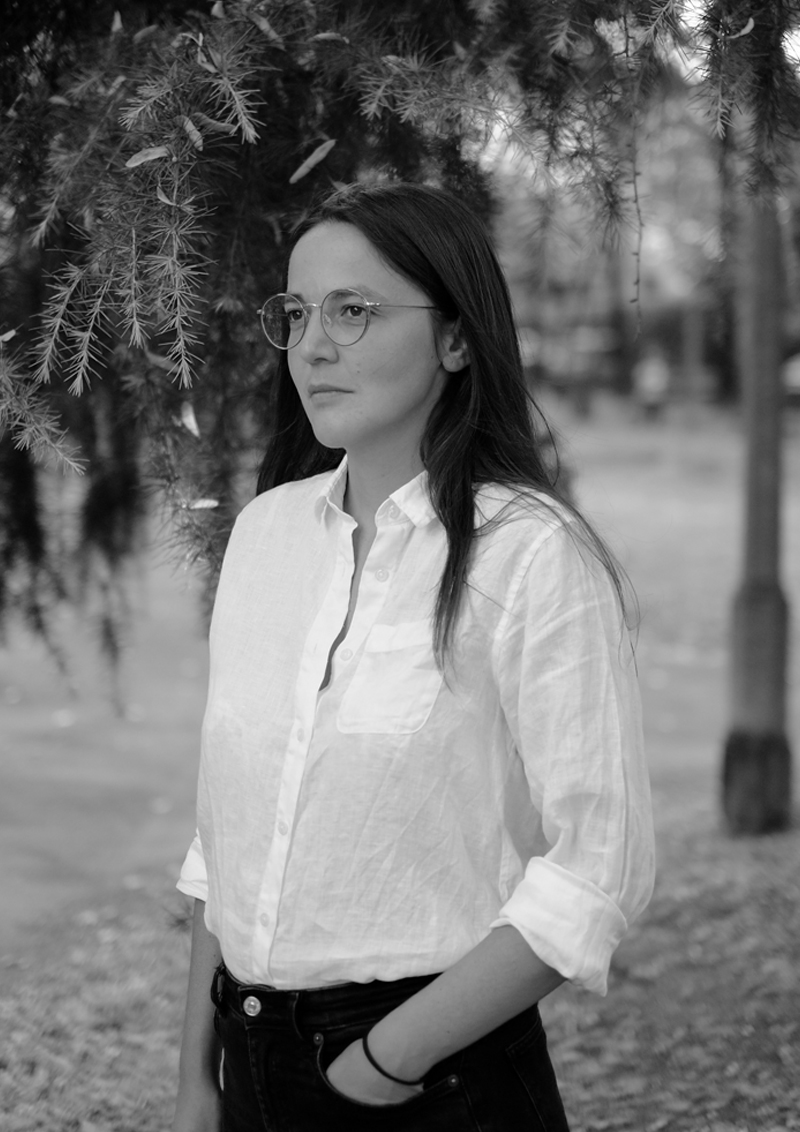 Caterina Molteni is Assistant Curator at the MAMbo – Museum of Modern Art in Bologna.
From 2016 to 2019 she dealt with Public Programs and Digital Content at the Castello di Rivoli Museum of Contemporary Art Rivoli-Turin. In 2015 he collaborated with the Sandretto Re Rebaudengo Foundation, Turin. In 2014 she co-founded Tile Project Space, a non-profit space dedicated to research on emerging Italian art and in 2016 she was one of the founders of Kabul Magazine, with which she collaborated until 2018. In 2019 she started the Bagni d'Aria self-training project.
Her texts have appeared in Flash Art, CURA, Nero Editions, Kabul Magazine while his most recent projects include: Perchè lo faccio perchè. La vita poetica di Giulia Niccolai (with Allison Donahue, MAMbo, 2022); Dear you (MAMbo, 2021); Nuovo Forno del Pane (con Lorenzo Balbi e Sabrina Samorì, MAMbo 2020); Per un rinnovamento immaginista del mondo (con Carolyn Christov-Bakargiev, Alba, 2019); Supercondominio (Castello di Rivoli, 2018-2019); String Figures. Narration Practices (Fondazione Baruchello, Roma 2018).
Chiara Parisi
Director at Centre Pompidou in Metz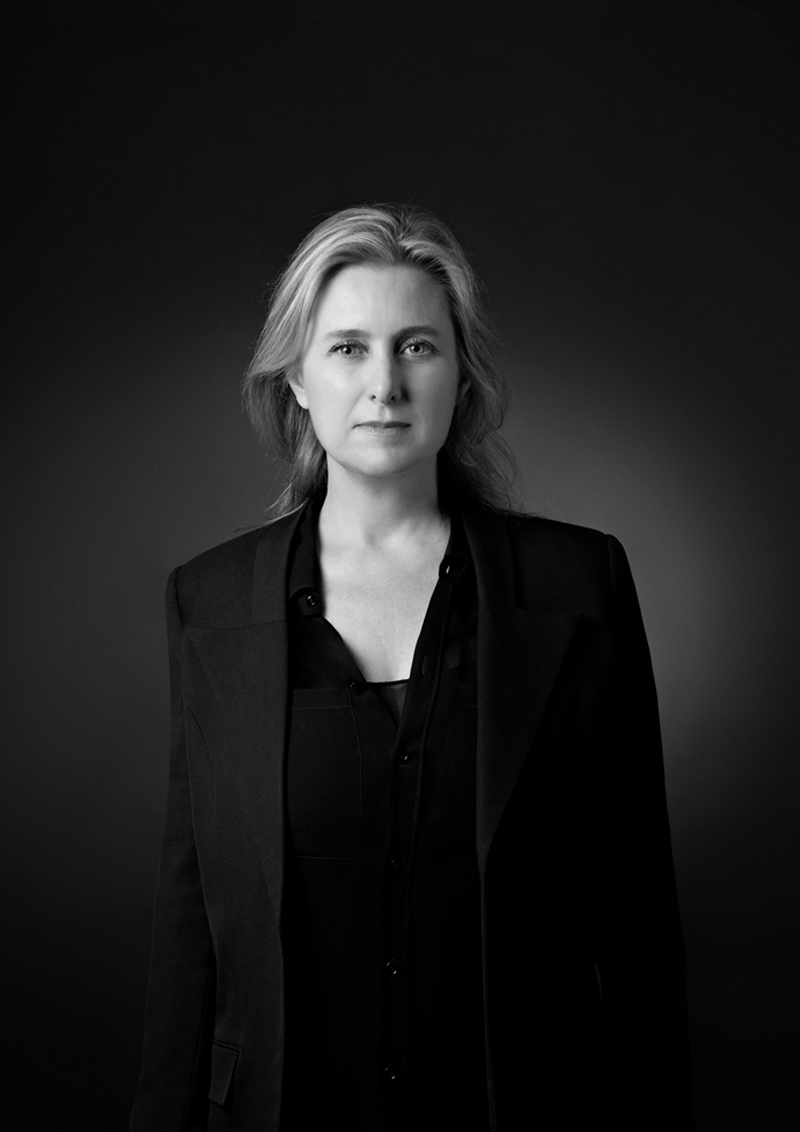 Art historian, Chiara Parisi was appointed Director of the Centre Pompidou-Metz on December 2019. From 2011, she has served during five years as Director of the Monnaie de Paris where she notably devoted an important monographic exhibition to the artist Marcel Broodthaers and organized milestone exhibitions, in particular on Maurizio Cattelan and also "Take Me (I'm yours)" with Christian Boltanski and Hans Ulrich Obrist.
From 2017 she has also been guest curator of exhibitions at the French Academy in Rome-Villa Medici where she presented the work of Anne and Patrick Poirier. She also conceived the group exhibition "Le Violon d'Ingres," at the crossroads of art history and contemporary research and the exhibition "Ouvert la nuit," with, among others, Rosa Barba, Christian Boltanski, Trisha Donnelly, Elmgreen & Dragset, and Felix González-Torres. With the series of exhibitions "Una", she has presented the work of Annette Messager, Claire Tabouret and Yoko Ono, Elizabeth Peyton and Camille Claudel, Tatiana Trouvé and Katharina Grosse. From 2004 to 2011, she has been the Director of Centre international d'art et du paysage de L'ile de Vassivière.
SUPERBLAST II is a project created and promoted in partnership with NERO Editions, an international publishing house dedicated to contemporary art, criticism and culture, and STUDIO STUDIO STUDIO, the laboratory founded by the artist Edoardo Tresoldi to create and support contemporary artistic projects.
The presentation of the book 'nel paese delle ultime cose' | SUPERBLAST II, published by NERO Editions, will be held on Friday 16 December at 18.30 at Manifattura Tabacchi.
Free registration on Eventbrite is required.
A group of people inhabited a space for a period of time. From this place inside and outside the city, they observed the world. In nel paese delle ultime cose catastrophe has already happened, and its inhabitants dig through the ashes searching for what or who survived, coming to terms with the future.
This book is the editorial result of an experimental process which sees the blending of critical thinking and artistic work within a single project. During their residency at Manifattura Tabacchi, each artist was accompanied by an author who elaborated a text from a specific element of their work.
The book nel paese delle ultime cose, published by NERO Editions, abandons the form of the traditional exhibition catalogue. It is the result of the dialogue and the lively exchange among the authors Angela Balzano, Ivan Carozzi, Giulia Crispiani, Federico Di Vita, Matteo Grilli, Laura Tripaldi and the artists Irene Adorni, Roberto Fassone, Beatrice Favaretto, Lorenzo Lunghi, MRZB and Davide Sgambaro, with editorial by Caterina Taurelli Salimbeni and afterword by Caterina Molteni.
This publication, which combines research materials, photographic documentation, narration and theoretical exploration, reflects the elusiveness of the subject under
investigation returning a fluid snapshot of the contemporary condition through the thoughts of intellectuals, critics and artists.
'nel paese delle ultime cose' | SUPERBLAST II is available, in a limited edition, in NERO's online shop.