the land of the last things | The exhibition
SUPERBLAST II Exhibition
22nd september – 16th october 2022
Exhibition openings | Wednesday to Sunday from 2pm to 8pm
Opening |  Thursday 22nd september, from 6:30pm
the land of the last things is the title of the exhibition for the return of the second edition of SUPERBLAST, an international call for the assignment of six residences to six artists focused on the experimentation of artistic languages ​​within the spaces of Manifattura Tabacchi.
Find out more
NAM – Not A Museum presents the second edition of SUPERBLAST, the call to the arts for creative and experimental artistic production with an interdisciplinary approach that will be held at Manifattura Tabacchi.
How do the past and future coexist in the present? What can we learn from the crisis, from the processes of collapse and recovery? What will be left of our infinitely stratified present for future generations? We propose SUPERBLAST as a lens to reflect on the many urgent themes of our times, and the second edition will revolve around issues such as the ephemeral city, the third landscape, and dreams. This open call invites artists to recreate an ideal stage as they seek traces of the world which remain yet to be explored, asking themselves where these traces can lead and what they can become.
This second edition of SUPERBLAST will feature travelling theatres and fantastic maps as the artists rethink the materials of the past to prepare for the future.
SUPERBLAST is a competition for multidisciplinary artists: 6 winners will become residents and will freely develop projects that interact with Manifattura Tabacchi's spaces.
The open call for the SUPERBLAST residency is free of charge and open to participants from all over the globe who are under 40 years of age.
Participants may be individuals or groups with varying artistic practices: sculpture, painting, sound and new media art, performance, choreography and relational practice and workshop-based projects.
The selection was made by an international panel made up of contemporary art curators: Andrea Lissoni (Artistic Director at Haus der Kunst in Munich), Elena Magini (Curator at Contemporary Art Centre Luigi Pecci in Prato), Caterina Molteni, (Assistant Curator at MAMbo in Bologna) and Chiara Parisi (Director at Centre Pompidou in Metz).
Irene Adorni
Irene Adorni (Parma, 1990) lives and works in Bologna, where she founded the artist-run space Parsec. After having undertaken humanities studies at the University of Bologna at the Literature Department, she attended the three years of painting at the Accademia delle Belle Arti in Bologna with Prof. Mundula, where she obtained his diploma in 2016. She later moved to London, where she concluded in 2019 an MFA in Fine Arts from Goldsmiths University of London.
She recently exhibited on the occasion of the ABECEDARIO D'ARTISTA exhibition, curated by Gaer in collaboration with Toro at the Palazzo del Governatore, Parma (2021); HOLE, Temporary art peep show, curated by Adiacenze and Tatanka in collaboration with Andrea Tinterri, Adiacenze, Bologna (2021); HOLD ON, group show curated by Trans-curatorial, The Koppel Project, London (2020) and has been selected to present her work with Castro (Rome) on the occasion of ARTVERONA 2019, Offsite Project.
It has also recently been included in the publication of Exibart 222 EMERGING ARTISTS IN WHICH TO INVEST, edited by Cesare Biasini Selvaggi and Silvia Conta (2021). In her environmental installations, Adorni investigates the relationship between bodies in space, exploring the potential of their representation, starting from the paradoxical condition that sees incorporation play an ever-increasing role in the corporeal dimension of our lives.
Roberto Fassone
Roberto Fassone (Savigliano, 1986) lives and works in Florence. To date, his research concerns the limits of imagination, lucid dreams, titles of things, trip reports, little adventures, Prince, the metaphors we live in, the definition of the game, pre-game speeches and lists. His works are the result of a spontaneous, ritual and occult practice.
In recent years Fassone has exhibited and performed his work at Italian and international institutions, including: Vision du Rèel, Nyon (upcoming); Lo Schermo dell'Arte, Florence (2021); Italian Cultural Institute, Paris (2021); Fanta-MLN, Milan (2019); MAMbo, Bologna (2018); OGR, Turin (2018); Castello di Rivoli, Turin (2017); MOCAK, Krakow (2017); Mart, Rovereto (2016); Quadriennale of Rome (2016); AOYS (online), Zkm, Karlsruhe (2015); Japan Media Arts Festival, Tokyo (2014). In 2019 he co-curated with the artist and performer Kasia Fudakowski Lo schermo dell'arte, a performative film festival within the best known Lo Schermo dell'Arte Film Festival.
In 2019 he won the IMAGONIRMIA tender, founding the Museum of Lost Time in Modena Ovest. Since 2012 he has developed an intense activity of workshops dedicated to the implementation of lateral and creative thinking in collaboration with museums (Zkm, Karlsruhe; MA * GA, Gallarate), artistic spaces (Hangar Bicocca, Milan; OGR, Turin) and schools ( MADE Program Accademia di Belle Arti Siracusa; ISD, Dusseldorf) His practice is open to collaboration: over the years he has created projects with Federico Tosi, Carolina Cappelli, Riccardo Banfi, Mattia Pajè, Kasia Fudakowski, Jacopo Jenna, Friends Make Books.
Beatrice Favaretto
Beatrice Favaretto (Venice, 1992) in 2015 graduated from the Accademia delle Belle Arti in Venice, in 2018 she obtained a specialist degree in New Technologies for Art – Cinema and Video Art at the Brera Accademia delle Belle Arti. In 2021 he was among the finalists of the first edition of the Biennale College Arte curated by Cecilia Alemani and Marta Papini.
In 2020 she won the Artists' Film Italia Recovery Fund Award with The Pornographer promoted by the screen of art and was a finalist at the DucatoPrize2020. His recent exhibitions include: 2021, CLAMOR, with Giorgia Garzilli, Jacopo Belloni, Pietro Librizzi, Diego Gualandris, Sala Santa Rita, Rome; 2021, Art City Bologna, curated by Caterina Molteni and Lorenzo Balbi, Cassero LGTBI +, Bologna; 2021, PRIME TIME, curated by Adrienne Drake, Ilaria Gianni and Maria Alicata (MagicLantern Film Festival), smART Foundation, Rome; 2019, Indistinti Confini, Cinema Giorgione, Venice; 2018, Francesco Fabbri Prize for Contemporary Art, Villa Brandolini Pieve di Soligo; 2018, Diaspora, Church of San Carlo (RE), Reggio Emilia. Residency projects include: 2021-2022, Fondazione Bevilacqua La Masa, Venice; 2019, Castro Projects, Rome.
Lorenzo Lunghi
Lorenzo Lunghi (Crema, 1993), lives and works between Crema Milan and Geneva. After graduating in 2018 in Painting and Visual Arts at the Giacomo Carrara Accademia delle Belle Arti, Bergamo, in 2021 he completed the Master in Visual Arts, Work, Master Contemporary Artistic Practices, at HEAD, Geneva. From 2016 to 2019 he was part of the DITTO collective of which we mention the exhibitions: Eclissi, MACAO, Milan, 2018; Spectri (MAXXI prize), curated by Giulia Gelmini, Villa Farinacci, Rome, 2018; Blind Date, Current, Milan, 2018. Since 2019 he has curated a series of traveling exhibitions in natural and extra-urban contexts, including: Erbacce, Monza, 2020; Miraggio, Fontanile Fontanone, Farinate, 2019; FORTEZZA, Giacomq, Bergamo, 2019. His works have been exhibited in various contexts, including: Mal di Pancia, curated by AN / CONTEMPORANEA and Lorenzo Lunghi AN / CONTEMPORANEA, Ancona, Italy; Warum ist das Schöne so schwach, edited by Giulietta, Giulietta, Zürcherstrasse 144, Basel, Switzerland, Macina edited by Tretre, Via Marco D'Agrate 33, Milan, Italy; Monza Biennale, curated by Daniele Astrologo Abadal, Reggia di Monza, Monza, Italy; Leftovers edited by Luca Poncetta and Localedue, Via Azzo Gardino, Bologna, Italy; Tomorrow Here Today, curated by Ilaria Gianni, Palazzo delle Esposizioni, Rome; Exception of (not) being, curated by Essenza Club and Rhizome Parking Garage, Online show, 2020; DEDICATIONS, curated by Sonnenstube and Lumpen Station, Sonnenstube, Lugano, Switzerland, 2020; Weaving Home, Limbo off-space, Geneva, Switzerland, 2020; BAITBALL (01) "I'll slip an extra shrimp on the barbie for you", curated by Like A Little Disaster and Harlesden High Street, Palazzo San Giuseppe, Polignano a Mare, 2020; INSOMNNE, Sonnenstube, Lugano, Switzerland, 2019; Cristallino, Location_e, Bergamo, 2019; Chapter 2 (Autumn), Residenza La Fornace, 2018; Singular, curated by Accademia Carrara and Kilometrorosso, Kilometro Rosso Scientific and Technological Park, Bergamo; Warranty notice, by Giacinto di Pietrantonio and Simone Ciglia, Fuoriuso, Pescara, 2016.
Merzbau
MERZBAU is an artistic collective made up of Andrea Parenti (1992, Milan), Nakouzi De Monte (1994, Trieste), Filippo Tocchi (1991, Bologna) and Pietro Cortona (1990, Lecco) which operates between Turin and Amsterdam and questions the processuality of creation as an agglomeration of tensions and plural forces.
The interest in the peripheral, anti-authorship and the deviant outlines the stylistic and operational code of the collective. His collaborative and nomadic practice is based on an aesthetic and affective research of the peripheral and the marginal and explores various types of expressive approaches, such as sculptural and installation interventions, architectural-urban planning operations, curatorial projects, sartorial assemblages, object, textual, sound works and performative. The narrative tension is always present and develops in a spatial, plastic and linguistic way through spontaneous architectures, transitory scenographies, assemblages, sculptures and costumes, stories, sound performances, networks of physical and psychic associations and paths of fictitious subjectivity that break through and pervade the space.
The expanded sculptures created incorporate non-traditional materials, discarded and rediscovered, and are presented in such a way as to evoke an arena where matter, word and action are disseminated in space and time, imposing an open, non-linear and psychotic use. The term sculpture emerges in this sense as a node, a crossroads, a place of transition composed of several phenomena, including objects and images, texts and actors.
Davide Sgambaro
Davide Sgambaro (Cittadella, 1989), lives and works in Turin. His career began in 2015 after studying at the IUAV University of Venice and, in the following years, he participated in various training and production residencies thanks to which he realized some of his most complex projects.
In 2016 he had a brief training period at the École Nationale Supérieure des Beaux Arts in Paris in the chair of Ann Veronika Jansenn. The experience ends before its time and, looking for an economic solution to survive, he finds himself in Turin. In 2020, together with the other founding members, he founded AWI Art Workers Italia. His research explores existential issues relating to the condition of the individual in contemporary precariousness.
Using different media, ranging from installation to photography, from sculpture to video, he tries to give life to caustic narratives as a response to contemporary disparities.
Drawing on the generational imagination and adopting an irreverent attitude, it activates survival mechanisms to imagine a new utopia. The research is in fact linked to generational problems with an eye to possible dystopian futures and to hysterias and obsessions caused by the race for fame. His works are presented through the use of narrative paradoxes triggered by traces of an ephemeral corporeality. The body is the intermediary of the provocative, ironic gesture, which, together with the posthumous trace, resists the catatonic state and modifies space and matter. The importance of physical interaction is therefore a key to understanding for the installations that often play with site specific and participatory practices.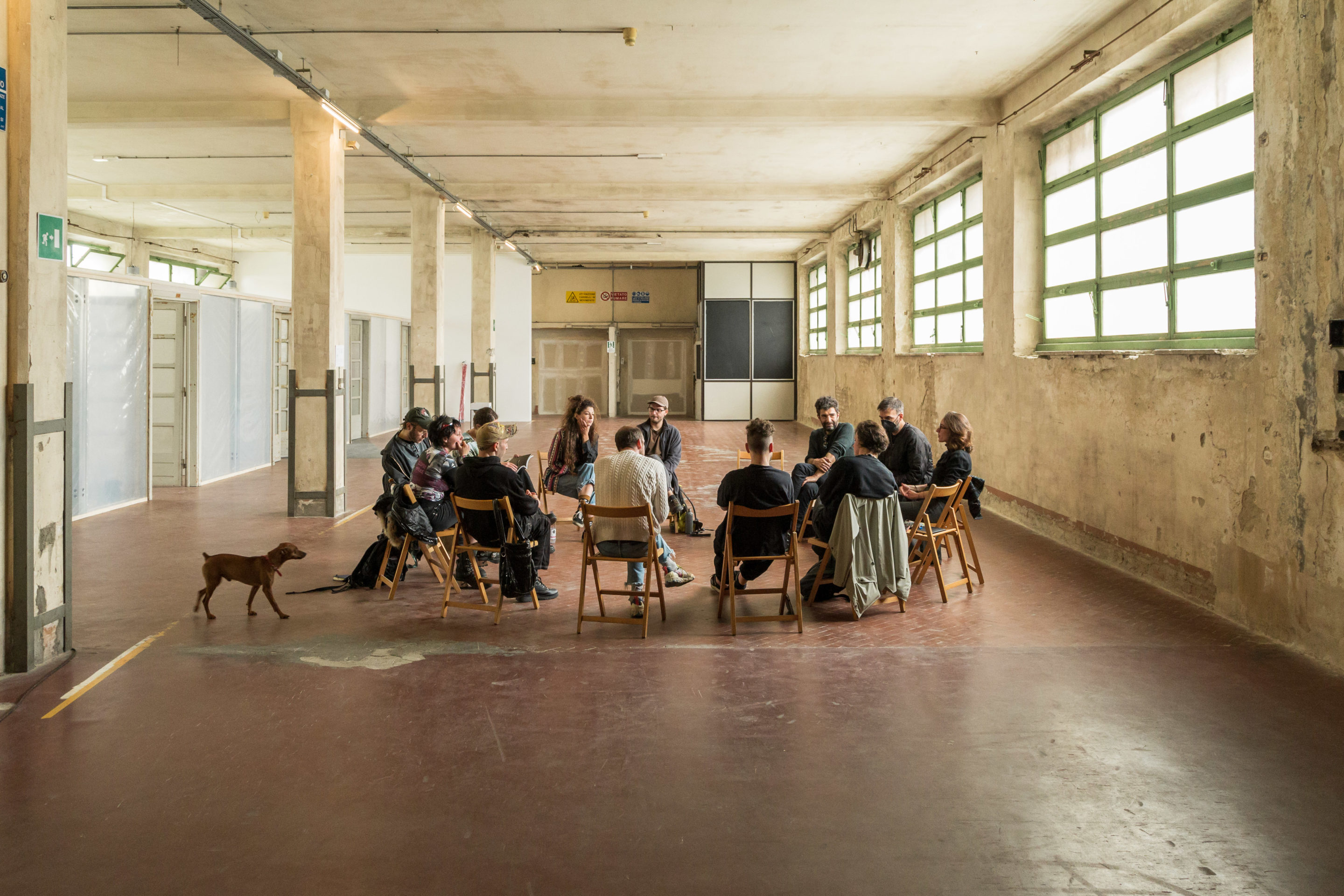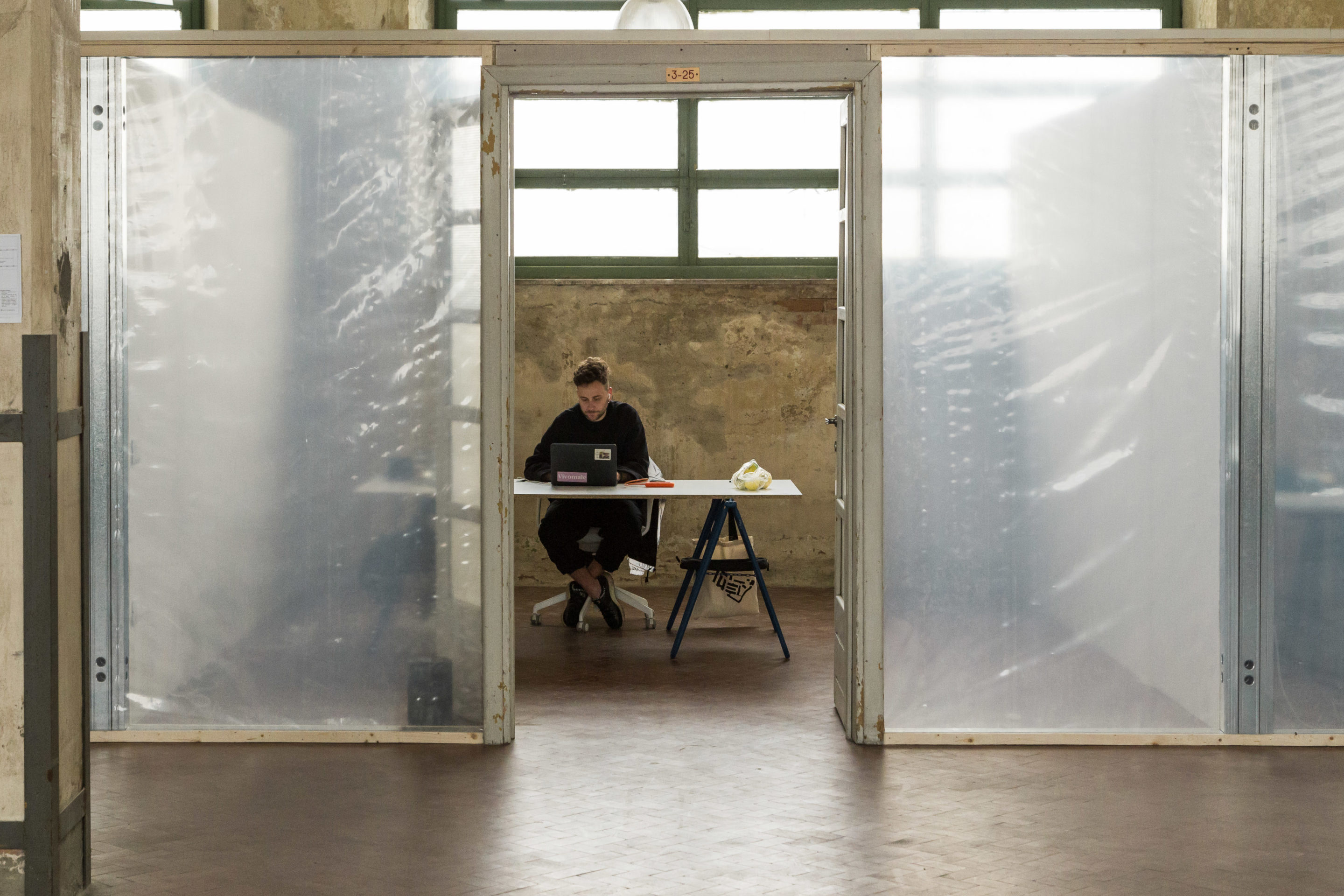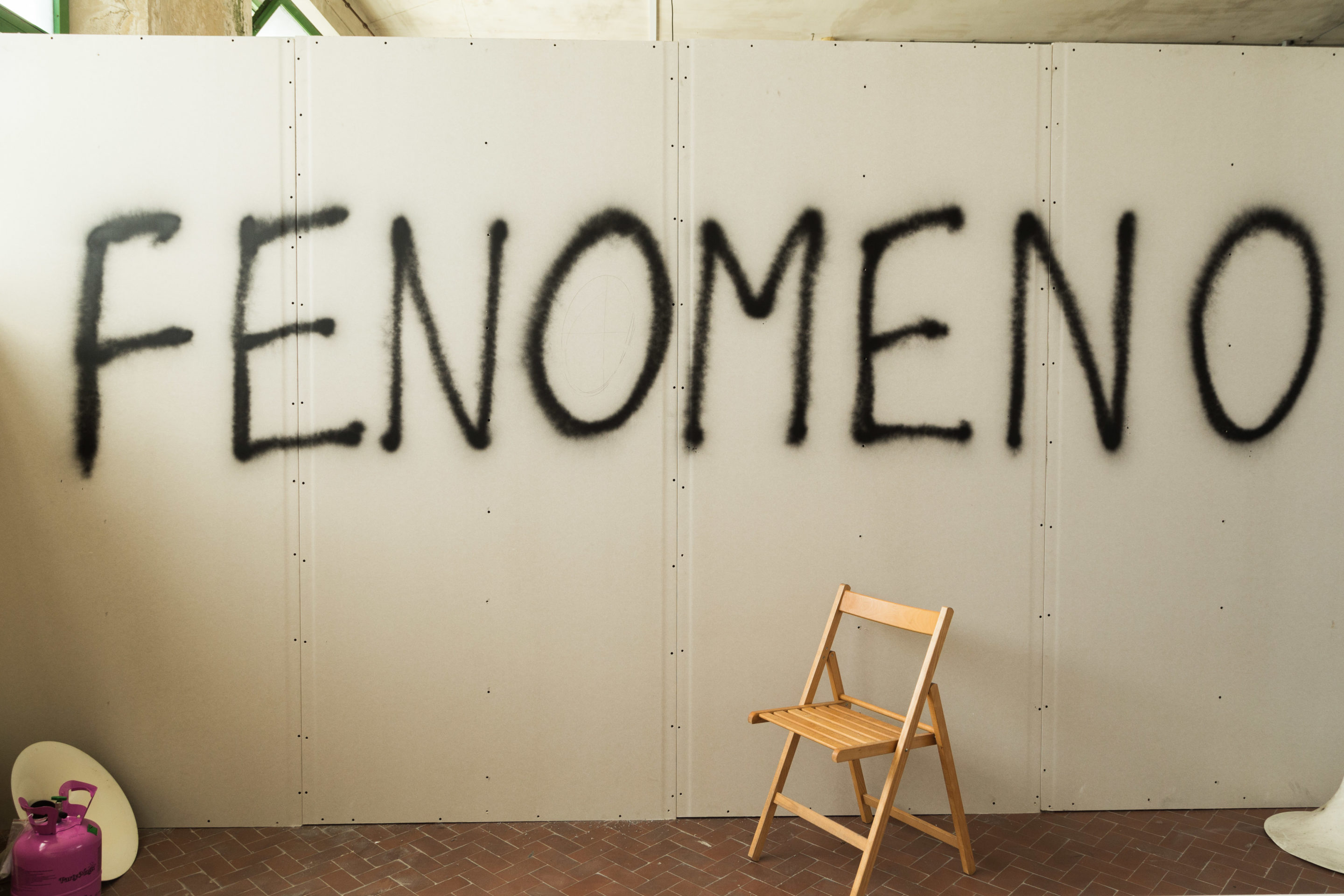 SUPERBLAST II
Photo Credits Giovanni Savi