Antonio Vivaldi's The Four Seasons, perhaps the most famous concert repertoire in the Western Classical music canon, are rediscovered and reinterpreted: his less-well-known Sonetti, which Vivaldi wrote to accompany the musical score, for this event will be freely interpreted by children and teens. This context of this concert/performance is relaxed and convivial, and includes brunch (Sunday) and an aperitivo (Saturday) in the ticket price. A marvellous happening hosted by Manifattura Tabacchi in the evocative Giardino della Ciminiera which will encourage interaction between adults, children, audience, and musicians.
Concept, live mix: Letizia Renzini
Live electronics: Giovanni Magaglio
Conductor of the Scuola di Musica di Fiesole: Edoardo Rosadini
Solo violinists: Angela Tempestini, Sara Manaresi, Daniele Dal Piaz, 邹文晓 (Wenxiao)
Recorded voices: Livia Donati, Elena Fabozzi
Production: NAM – Not A Museum for Happening!, Scuola di Musica di Fiesole, Tempo Reale, Fosca
Seats must be reserved in advance, brunch/aperitivo included.
ACCESS WILL BE IN FULL COMPLIANCE WITH THE MEASURES THAT THE ITALIAN GOVERNMENT IS TAKING TO COMBAT THE SPREAD OF COVID-19.
Facebook event
BRUNCH
Sunday 27/09 and 4/10 from 12:00-13:00
Price: €15,00 (performance booking fee included)
Brunch Menu:
Hummus and cream of peas with mint
Pappa al pomodoro with stracciatella (fresh cheese)
Crispy panzanella with seafood
Pokè (with fish)
Water and coffee
Wine (served to your table)
APERITIVO
Saturday 26/09 and 3/10 from 17:00-18:00
Costo: € 10,00 (performance booking fee included)
Aperitivo menu:
4 seasons of cicchetti (open-faced sandwiches) with a Spritz cocktail, or wine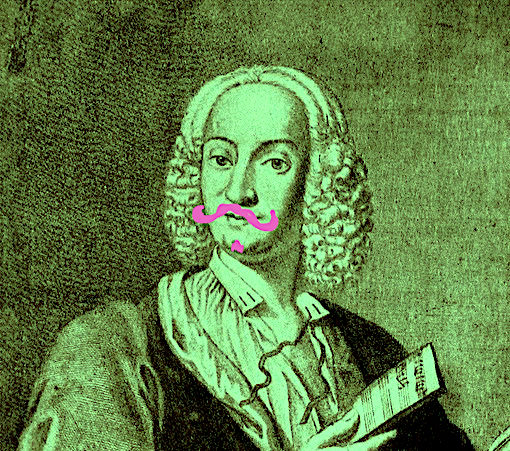 The Cimento dell'armonia e dell'invenzione (the concert series of which the Four Seasons is a part) is a programmatic title which can as easily be applied to the art of musical composition as it can be to life, in the solco? of layers of meaning and interpretations which come alive in Antonio Vivaldi's works. Perception, balance, the harmony of Nature, bodies, sounds, and the musical gestures of this universally appreciated masterpiece have inspired this collective revisitation which reharmonises and reinvents the pieces in a meeting of spirits between the young musicians and the samplers, where the sounds of synthesis coexist with electroacoustic sounds produced by the same musicians. It is a conceptual deconstruction and reconstruction which in its practices and solutions becomes a celebration and catharsis, echoing many of the Happening! festival's core values: osmosis, collectivity, listening, and freedom.
LETIZIA RENZINI
Director, musician, DJ, Letizia Renzini works as stage director and creator in new music theatre, performing arts, installations and electronic music/visuals. A sound and video artist and a performer, her practice with mixing media is focussed on the exploration of composition through different languages. She has worked for many years as a dj and presenter of the iconic late night show "Battiti" on Radio 3, third channel of the Italian National Radio. She has curated and directed music series and festivals She has taught Multimedia Arts and Cinema Studies at the Marangoni Insitute for Fashion, Arts and Design and curated several series and festival focussed in sound art and music (Short Theatre Milano 2008, Murate Vive, 2010, Post Elettronica 2012). Her works of new music theatre and her music and visuals performance have been seen and listened to in many international festival for contemporary and performing arts such Biennale di Venezia, Festival Romaeuropa (I) Operadagen Rotterdam (NL), National Theatre Amsterdam, Mozarteum Salzburg (A), Radialsystem Berlin (D), Fabbrica Europa Florence (I), Parco della Musica Rome (I), Centro Cultural de Belem (P), State Theatre Pretoria (SA), Macro Roma, The Place London (GB), Opéra de Lille (FR), Tanzeshus Stockholm (S), Royal Opera House London (GB), CCS Strozzina Florence (I), Walpurgis Antwerp (B), Bimhuis Amsterdam (NL), Concertgebouw Brugge (B): Hamburg Elbphilarmonie, Opéra de Lille, Cité de La Musique Paris, and many more. In 2018 she premièred her last show Decameron 2.0 at the 61th edition of the Spoleto Festival dei Due Mondi. Her following show Love, You son of a bitch – a Scarlatti project opened at Staatsoper Berlin in October 2019.
GIOVANNI MAGAGLIO
Giovanni Magaglio Sound designer and musician from Palermo, he studied electronic music first in Palermo and then Sound Design at the G.B. Martin of Bologna. In the combination of acoustic sound and electronic processing he has identified his main interest. He works with sound in musical, audiovisual, performative and installation environments. In recent years he collaborates with the Tempo Reale music research center, and is one of the founders of the theater company "Residual Fractions" and of the label "Tipoff".
TEMPO REALE
Centre for musical research, production, and education
Founded by Luciano Berio in 1987, Tempo Reale has established itself as one of the main centres for research, production, and education in the field of sound and new musical technologies. Soon after the centre's inauguration, Tempo Reale was involved in the performance of Berio's works which opened the doors to some of the most prestigious stages the world over. The development of criteria regarding quality and creativity learned from these early experiences continues to hold a standard to Tempo Reale's work with affirmed composers and artists as well as young emerging musicians. The principal themes of the centre's research reflect upon a polyhedral approach which has characterised Tempo Reale's choices and initiatives from the outset: the conception and creation of musical events of profound cultural relevance, the study of the sonic landscape and the elaboration of live sound, the experience and interaction between sound and space, the synergy between creativity, scientific skill, and the rigour and dedication required for effective performances and education.
In 2008, the Tempo Reale Festival was founded. The festival offers a rich concert programme which includes performances and shows dedicated to new music. As of 2013, Tempo Reale is considered an Authority for Live Performance by the Regione Toscana; and as of 2018, the centre is an Italian representative at the International Confederation of Electroacoustic Music.
SCUOLA DI MUSICA DI FIESOLE – FONDAZIONE O.N.L.U.S.
Founded in 1974 by Piero Farulli, legendary violist of the Quartetto Italiano, the School of Music of Fiesole has served as a benchmark for music worldwide for forty years. The School has 1,300 students, 7 orchestras, 6 choirs and 140 teachers and holds more than 200 performances per year.
Hundreds of musicians who studied here in Fiesole are active on the concert stage. Many of them received their fundamental professional training thanks to the Orchestra Giovanile Italiana, one of the School's most prosperous educational projects, and went on to find work with professional orchestras worldwide.
The world's most extraordinary musicians have shared their musical excellence with our institution: Riccardo Muti, Salvatore Accardo, Luciano Berio, Claudio Abbado, Carlo Maria Giulini, Maria Tipo, Trio di Trieste, Natalia Gutman, György Kurtág, Gabriele Ferro, Krzysztof Penderecki, Daniele Gatti, Pavel Vernikov, Gianandrea Noseda, Giuseppe Sinopoli, to name a few.
Recently accredited by Ministerial Decree to issue First Level AFAM Diplomas, the School of Music of Fiesole also added to its many existing collaborations with other institutions a three-year agreement with the prestigious Mozarteum in Salzburg, which includes various joint projects, including this year 's staging of Mozart's masterpiece La clemenza di Tito.
Always at the forefront of musical literacy training even for the youngest children, the School has established an educational opportunity completely free of charge: group lessons are taught in a multi-ethnic neighborhood on the outskirts of Florence, in what is one of the centres of the Sistema italiano di Orchestre e cori infantili e giovanili (Italian Federation of children's and youth Orchestras and Choirs). Fiesole also developed, in collaboration with the University of Florence, a project for the first postgraduate Level I Master's Degree in order to train teachers for this sort of work.
In 2002 the School founded the European Chamber Music Academy (ECMA) together with some of the most prestigious music academies in Europe. This international training course aids some of the Academy's finest quartets in garnering top results in the most important international competitions such as ARD in Munich, Haydn in Vienna, Shostakovich in Moscow, Melbourne International Chamber Music Competition and the Prague Competition.
The activities of the School, led by Artistic Director Alain Meunier since 2016 and by Superintendent Lorenzo Cinatti since 2012, are made possible thanks to economic support provided by the Ministry of Cultural Assets and Activities, the Region of Tuscany, the Province of Florence, the City of Florence and the City of Fiesole. The Ente Cassa di Risparmio bank foundation of Florence is a patron beyond compare for all of the School's activities. Numerous donations are also made by private citizens for merit-based scholarships, as recently exemplified by Claudio Abbado who, with a most significant gesture, donated the compensation he received for his role as Senator for Life.
The School's awards include the First Annual Abbiati Prize in 1981 for being the "finest musical initiative", the President of the Republic National Award from President Carlo Azeglio Ciampi in 2005 and the Praemium Imperiale Grant for Young Artists from the Japan Art Association in 2008.