PAYSAGE VIVANT, PAYSAGE VIBRANT
An experimental film exhibithion with short films by international artists.
11 January 2020
7 pm
B8 – Manifattura Tabacchi
Manifattura Tabacchi hosts the screening of seven experimental short films, all taken from the Light Cone archive in Paris, with landscape being the common theme that threads its way through each of them.
Presented and introduced by Emmanuel Lerfant, Director of Light Cone, video artist and writer of some of the films in exhibition.
Free entry until full capacity.
film Exhibithion programme
Light Cone is a nonprofit organization whose aim is the distribution, promotion and preservation of experimental cinema in France and around the world.
LIGHT CONE's Documentation Center offers a unique collection of written and audiovisual documents for consultation by researchers and programmers. With the addition, in 1999, of the Experimental Film Archive of Avignon (AFEA), the Documentation Center includes over 5,000 print documents (books, periodicals, catalogues), nearly 12,000 audiovisual documents (digital files, DVDs, Blu-Rays, audio and video tapes…) and 1080 thematic records (biographical and institutional files).
Emmanuel Lefrant lives and works in Paris, where he makes films, all self-produced, exclusively on celluloid. The films lie on the idea of representing, of revealing an invisible world (the secret forms of emulsion), a nature that one does not see.
In 2000, he founded with Nicolas Berthelot, Alexis Constantin and Stéphane Courcy the collective Nominoë. They created together performances which have been played in many prestigious places, as the Pompidou Centre, the Serralvès Foundation (Porto) or the Edinburgh International Film Festival (Black Box Live).
What is experimental cinema?
"Above all, "the term 'experimental cinema' doesn't really mean anything. It's just a convenient way of labelling a type of cinema as not 'commercial' or 'industrial', in line with so many standardised films: all telling the same story, with the same actors in them 90% of the time, which last about an hour and a half, which are made collectively and which are distributed through a network of traditional cinemas.
A well-known French theorist from the 1970s and 80s, Dominique Noguez, published a book in 1999 called 'Eloge du cinéma expérimental', with the word experimental crossed-out, in order to make the point that this word doesn't serve anyone and suggests that the work is unfinished or amateur.
From these premises, experimental cinema would be:
– the creator's own film. In the sense that the director has control over their own film, not like in the New Wave, for example, when Godard worked with the producer George de Beauregard, actor Ana Karina and director of photography Raoul Coutard.
– films which are shown in places that are different from the usual network of cinemas: museums, art galleries, underground art-scene locations, film festivals, etc.
– films that are made without the pressures and constraints of commerce: having to work with named actors, making films with a duration that is well-suited for modern cinemas, not too long or too short, that tell a story (as if film was only able to tell stories), etcetera.
Yes, experimental cinema requires a relationship with the support, the film, with analogical, artisan and pictorial elements that differ from traditional commercial cinema. But this is only a little piece of experimental cinema. At Light Cone we defend analogue cinema and 'materialistic' cinema a lot, but experimental cinema is wider and cannot be reduced to that aspect alone."
Emmanuel Lefrant
FILM EXHIBITION PROGRAMME
ASLEEP
by Paulo ABREU 
2012 / Digital file on server / color-b&w / sound / 25 ips / 12′ 20
Asleep is an experimental and poetic documentary, shot in Super 8, about the Capelinhos volcano in the Azorean island of Faia.
Also included is some footage of the successive eruptions during 1957 and 1958.
CHINA NOT CHINA
by Richard TUOHY 
2018 / 16mm / color / sound / 24 ips / 14′ 10
Hong Kong marked 20 years since its hand over to China; half way through the planned 40-year « one country, two systems » transition. Taiwan, once imperial China, once Formosa, now ROC (Republic of China) on the edge of the PRC (People's Republic of China). Multiple exposures of street scenes distort space and place creating a fluid sense of impermanence and transition, of two states somewhere between China and not China.
HAND HELD DAY
di Gary BEYDLER 
1974 / 16mm / color / silent / 24 ips / 6′ 00
I DON'T THINK I CAN SEE AN ISLAND
by Christopher BECKS & Emmanuel LEFRANT 
2016 / Digital file on server / color / sound / 25 ips / 4′ 10
A Film of Symbolically Authentic Non-Euclidean Adventures.
PARTIES VISIBLE ET INVISIBLE D'UN ENSEMBLE SOUS TENSION
by Emmanuel LEFRANT 
2009 / 16mm / color / sound / 24 ips / 7′ 00
Africa, 2003: the mechanisms of memory.
I shot the image of a landscape and buried simultaneously a film strip in the same place where the sequence was shot: the emulsion, the victim of erosion is thus subjected to biochemical degradation. The result of these natural processes of decay are then conserved in the state of their dissolution. Those two images, and their negative versions, are then entangled together thanks to double exposure and bi-packing techniques.
These landscapes in fusion, it's the logic of a world that reveals itself. A bipolar world, where invisible takes shape with the visible, where the first dissolves itself into the second and vice versa.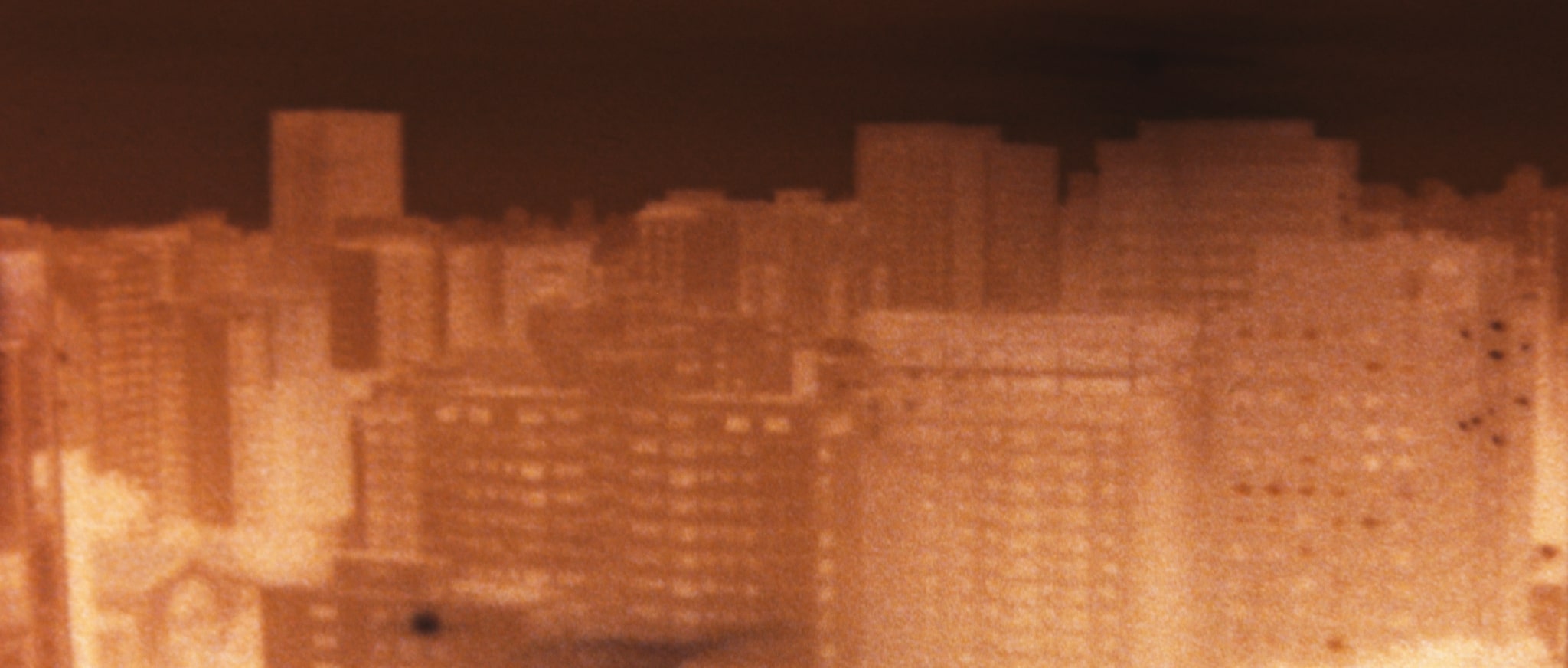 LE PAYS DÉVASTÉ
by Emmanuel LEFRANT 
2015 / Digital file on server / color / sound / 24 ips / 11′ 30
– What do you see? – A place not suited for human beings Le Pays Dévasté relates to the Anthropocene, the current geological age, viewed as the period during which human activity has been the dominant influence on climate and the environment.
SET
by Peter MILLER 
2016 / 16mm / color / silent / 24 ips / 10′ 00
For this found footage animated film I downloaded photographs of the sunset, adjusted each one and arranged them in order, setting into motion a singular, colossal, collective sunset.