Workshop with Marzia Migliora
In the country of the last things, there will be the history of the building
Marzia Migliora
The cycle of workshops at Manifattura concluded with Marzia Migliora, an artist from Turin who uses many different techniques and styles in her work, including video, sound, performance, installations, and drawings.
Migliora asked the six artists in residence to work on the history of the Manifattura Tabacchi. They looked into studies on the working conditions inside the factory when it was still in operation. These explain how many employees contracted cancer and lung diseases due to the strong exposure to vapours and dust resulting from the processing of tobacco. What struck the artist was the fact that these are the same diseases contracted by smokers. The producers of cigars and cigarettes of the factory paradoxically have a strong connection with the end users of the product of the factory itself.
Starting from this observation, the six artists were invited to take a tour, led by a former worker, inside the warehouses of Manifattura, in order to identify objects and materials emblematic of this analogy.
The choice between the materials still present is conveyed spontaneously on a large straw-coloured curtain, found in the former management apartments. The curtain, as a filter between inside and outside, an exposed and air sensitive element, was the ideal object. Therefore, they decided to work with tar.
Dense, black, and with an acrid smell, the choice of this material allowed the artists the metaphorical and conceptual connection between the history of the Manifattura and the present, objectifying this relationship thanks to a symbolic gesture that brings together a historical fact concerning the diseases of those who produced cigarettes and a fact that is still relevant today and which interests those who consume them.
The collective work, of which this photographic testimony of Robert Pettena remains, was created starting from the curtain found in the former apartments of the managers. The fabric was soaked in tar up to  its halfway point, then the curtain was suspended, still dripping, from the ceiling, becoming a dramatic theatrical backdrop.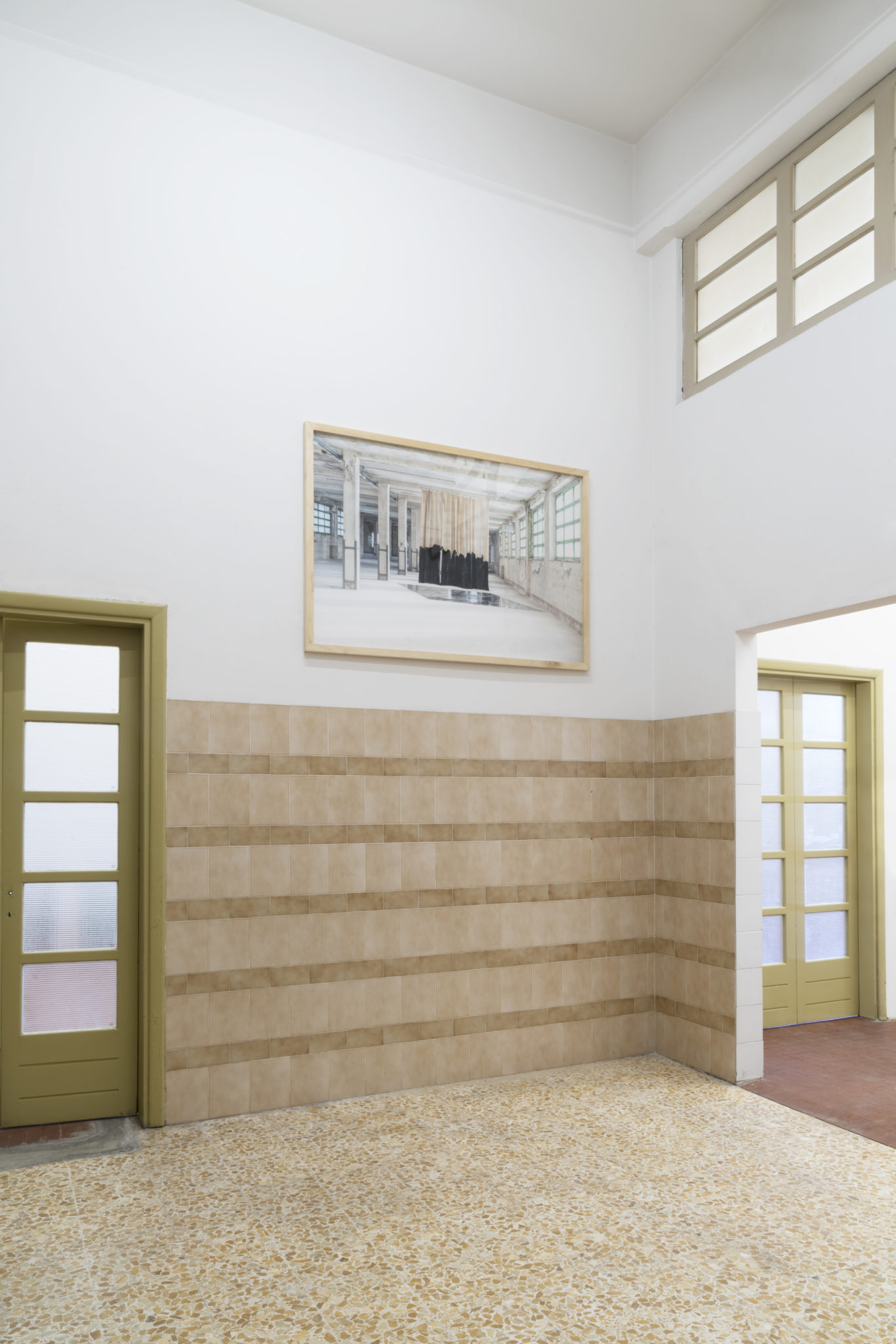 Mohsen Baghernejad Moghanjooghi,Matteo Coluccia, Stefano Giuri, Lori Lako, Gioele Pomante,Tatiana Stropkaiová
Idrocarburi policiclici aromatici
2019
Photographic paper, wood, plexiglass, 110×163 cm
The collective undertaking of the workshop with the artist Marzia Migliora culminates in a photograph taken in the empty unadorned area of one of the immense buildings of the Manifattura. The subject of the image is a curtain, half coated with black tar, dense and material, installed between the spans of the imposing colonnades designed by Pier Luigi Nervi. This fabric, saturated and leaking black tar, suspended in the void, seemingly detached from the context, becomes the repository of this place's historical memory and the work that took place here.