Paradigma. Il tavolo dell'architetto: De Lucchi Earth Stations
Paradigma. Il tavolo dell'architetto
with works by Michele De Lucchi
FROM 22 NOVEMBER 2019 TO 30 APRIL AT MUSEO NOVECENTO
The 7th instalment of Paradigma. Il tavolo dell'architetto (Paradigm. The architect's table) project, De Lucchi Earth Stations, opens in the cloister of the Museo Novecento in Florence. The architect's table, conceived by Sergio Risaliti and curated by Laura Andreini, will display the visionary architectural innovations of Michele de Lucchi. This initiative, in exhibition from 22 November to 30 April at Museo del Novecento, takes place thanks to support from Manifattura Tabacchi.
THE EXHIBITION
Michele De Lucchi takes centre stage in the seventh instalment of The Architect's Table, a series of exhibitions which present the work of celebrated contemporary architects, architectural collectives and studios. De Lucchi Earth Stations (22 November 2019 – 30 April 2020) displays a research project from 2018 that focused on the evolution of the concept of function in architecture, and on the need to design representative symbolic buildings. This research was preceded by Temples for Nature, which aimed at celebrating nature in its most extraordinary manifestations through iconic places.
Ph. Leonardo Morfini
This reflection on the social sense of a building is a thought that has come a long way for this architect from Ferrara: already in the book 12 racconti con casette (12 tales of little houses) De Lucchi imagined architecture inserted into a series of different landscapes in a way that provides hope and optimism. 
As he asks himself: "one of the questions that frequently comes to mind is what do humans really want? What do we give to humans?". From the experience of these small houses carved by chainsaw, a symbol of this research on the theme of inhabitation, we arrive at Earth Stations, a wider evolution on this theme and questions over the quality and conditions of human life on Earth, only this time increased in its scale and tied to the relationships between Humans, Nature, and Technology. 
The first Earth Stations, called Originals, relate to new places of work and buildings for public services. Five types of station are conceived in the version Many Hands, one for every climactic condition – desert, temperate, continental, polar and tropical – which aim to amplify the significance of the relationships between humans and the Earth. 
Modello concettuale 429, created by hand by Michele De Lucchi, is in exhibition in the temporary spaces at Manifattura Tabacchi and is closely tied to the Earth Stations exhibition, dedicated to this celebrated Milanese architect and designer and currently installed at the Museo Novecento in Florence as part of the project Paradigm: The architect's table.
Ph. Alessandro Fibbi
Michele De Lucchi's Earth Stations represent new architectural visions that are not too distant from their function, but which will help mankind to continue developing its aptitude for reciprocal exchange and every form of creativity and craftsmanship. 
"In a world of constant change, architecture produces structures that form pathways that lead off into the future, the Earth Stations are a new type of building, designed to improve human relationships. They are monuments to mankind, a mankind that uses humanistic and technological knowledge to create better living conditions, acting responsibly towards the natural and social world. They are not space ports, from where you can depart for Mars, Jupiter or the Moon. The introduction of digital technology and the arrival of artificial intelligence platforms, once they have been controlled, will rid us of bureaucratic work and will give us free time to dedicate to human relations, to caring for the person, the mind, and individual creativity. In the Earth Stations, a great deal of functionality is concentrated in the same place, favouring sustainability and quality of public and private relations. The symbolic attractiveness of their external form and the monumentality of the internal spaces are necessary paradigms to make them admired and experienced, capable of attracting and arousing pride and wonder."

Michele De Lucchi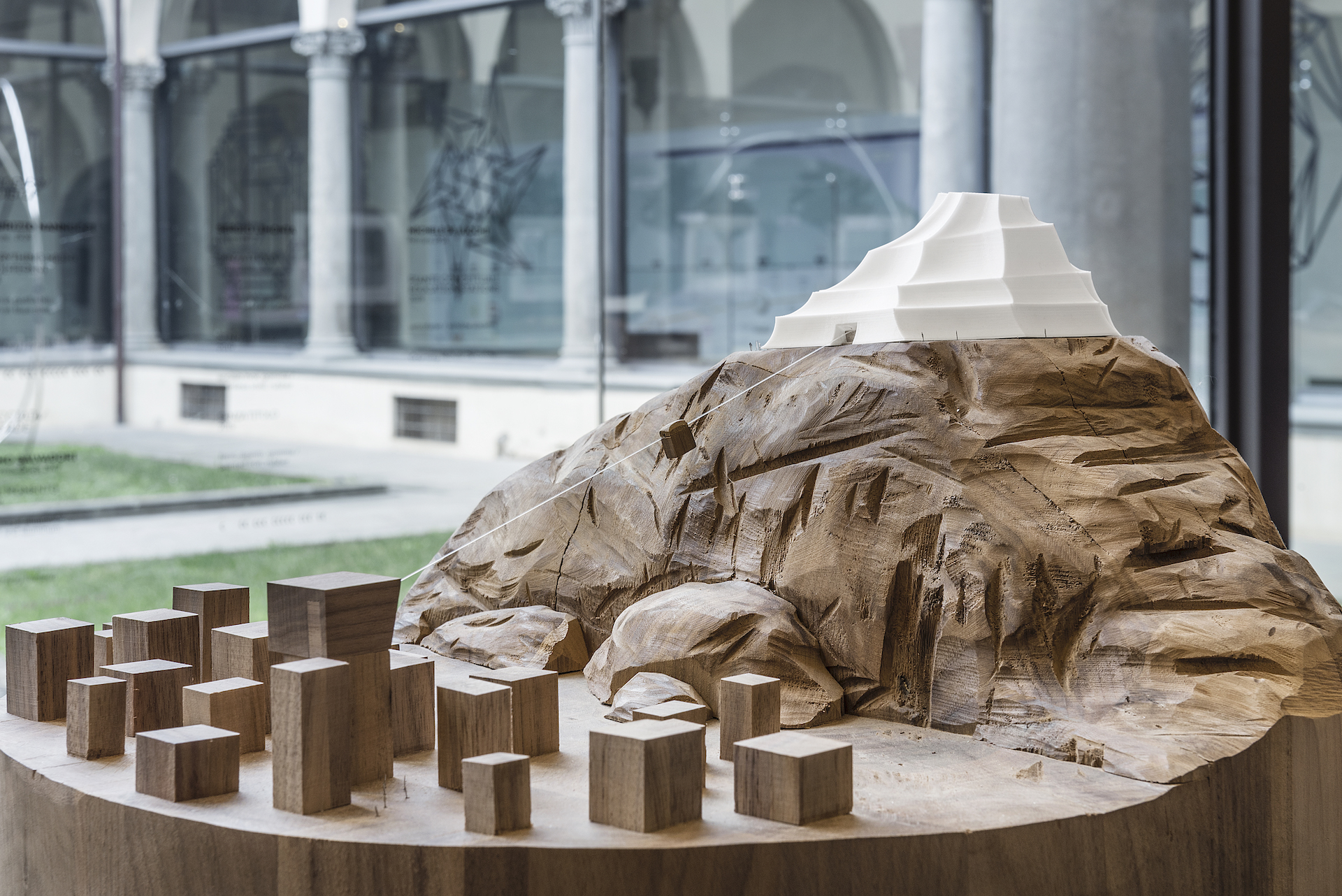 Michele De Lucchi
Michele De Lucchi was one of the leading designers at Alchimia and Memphis, creating furniture for some of the best-known Italian and European businesses. He was the Head of Design at Olivetti from 1988 to 2002. His architectural projects include cultural, office, industrial and residential buildings all over the world. 
He has designed areas for work and corporate identity for Deutsche Bank, Deutsche Bundesbahn, Enel, Poste Italiane, Hera, Intesa Sanpaolo, UniCredit and other institutions in Italy and abroad. He as developed important projects for hotels in Tbilisi (Georgia), Beijing (China), on the Rokkō-san complex (Japan) and in various parts of Italy. He has also designed buildings and exhibition spaces such as the Triennale di Milano, the Palazzo delle Esposizioni in Rome, the Neues Museum in Berlin and the Galleria d'Italia in Milan.
In 2000 he was awarded the title of Officer of the Italian Republic by President Ciampi. In 2001 he was appointed as a Professor at the IAUV in Venice. In 2006 he received an Honorary Degree from Kingston University.
Since 2008 he has been a Professor at the Faculty of Design at the Politecnico di Milano and an academic at the National Academy of San Luca in Rome. In 2018 he was named as a director of the Domus magazine.
Michele De Lucchi is the founder and forms part of Amdl Circle, an interdisciplinary collection of innovative designers. From 2018, Amdl Circle's research has focused on Earth Stations, a new type of building that uses humanistic and technological knowledge to improve human relations.